Internet For Assholes
Mocking Rick Wallace for Assholes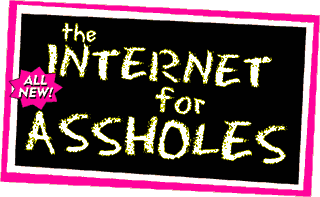 This month marks the one-year anniversary of the greatest Internet for Assholes story ever told. And it's chock-full of lessons for aspiring assholes.
Rick Wallace was a 19-year-old who lived in Buchanan, a small town (population 4,992) in an obscure corner of southeast Michigan. His hobbies included watching pro wrestling and collecting Star Wars action figures, and his home page featured a "GIRLS, PLEASE CLICK HERE!:)" link which led to a tacky plea beginning "Rick Wallace Needs You" in flashing red letters. ("guys need not click on this one..." it adds, just in case you missed the point.)
How do you find someone like Rick Wallace? Someone with a Web page so terrible that it begs to be made fun of? Well, you could just wait for the stumble factor, hoping to blunder onto some idiot's home page. But if you favor the proactive approach to being an asshole, there are more effective methods.

Most of your targets will be the personal sites of Net newbies, who tend to create remarkably similar pages. Try going to an open-text search engine such as AltaVista or Fast and searching for some of those stock phrases endemic to first-timers' Web pages. "Welcome to my Web page!" is a good one to start with, although you might find yourself a bit overwhelmed. Other good phrases include: "My first Web page," and "this is my first Web site, can you tell?" Don't forget about wildcard searches either. For example, searching for "the Smith family Web site" will only give you about 6 matches, but searching for "the * family Web site" turns up over 3500 potential victims. Once you find your match, feel free to go ahead and fuck with them. Think of it as the online version of bringing your new neighbor a chocolate pie!
There are lots of ways to look for dates, but Rick had adopted the "pathetic Web page" approach. "Almost 20 years old and I've never been kissed," he wrote. "Almost 20 years old and I've never been on a date... Almost 20 years old and I've never even held a girl's hand!... My birthday is coming up (December 11, 1998)... Please don't let me be alone on my birthday..."
Even then, the assholes on the Web might have let Rick skate by unmolested -- if he hadn't gone the extra-pathetic step of including a list of "Rick's Dating Statistics."
How many girlfriends I've ever had: 0
How many dates I've ever been on: 0
How many times I've been kissed by a girl: 0
How many times I've been hugged by a girl: 0
It went on and on....
How many times I've ever held a girl's hand: 0
How many times a girl has ever asked me to sit with her at assembly: 0
How many times a girl has ever asked me to sit with her at vespers: 0
How many times a girl has ever asked me to sit with her at the cafeteria: 0
Now, most people would stop there. But not Rick Wallace.
How many times a girl has ever asked me to sit with her at all: 0
How many times a girl has ever said "Hello" to me: 0
How many times a girl has ever smiled at me: 0
How many girls have ever wanted to associate themselves with me: 0
How many girls probably even care: 0
Rick tried to emphasize his good qualities. ("Let me put it to you this way: I'd go out with any girl who asked...SO PLEASE ASK!!!") But even the most casual observer had to recognize a certain redundancy. "The ultimate turn-on for me is... if a girl actually asked ME out! Hint, hint;)"
As if that weren't enough, he lays out a series of tidbits, contrasting the "Myths" about Rick Wallace with the "Facts" about Rick Wallace.
MYTH: The reason Rick Wallace doesn't talk to anyone is because he's "stuck-up."

FACT: The reason Rick Wallace doesn't talk to anyone is because he has dreadfully low self-esteem and his worst fear is rejection.

MYTH: The reason Rick Wallace doesn't smile is because he's mean.

FACT: The reason Rick Wallace doesn't smile is because he's never had any friends and is desperately lonely.
There's also a series of frequently asked questions. ("What is the purpose of this Web page? Is this page some kind of joke? Are you psycho?") Though at this point, the answers are fairly obvious. ("8. Let's say a girl were to ask you out...Would she have to worry about being rejected? Answer: No!!!")
It was inevitable that someone would make fun of it. But no one expected it would be Pokey the Penguin.
Pokey the Penguin is one of the Web's great humor enigmas. Is it written by a crackhead? A brain-damaged stalker? Or someone hell-bent on deconstructing the very concept of sequential humor? Mistakes in the drawings are simply crossed out, the dialogue is sometimes out of order, and the characters speak in nothing but italicized capital letters, presumably typed into the drawings.

The simple pictures show an antisocial penguin and his friends -- a snowman named "Mr. Nutty" and a hippopotamus -- speaking in intriguingly stilted language ("I deem the circus unsatisfactory") in storylines which don't always make sense. And there are cryptic references to Pokey's arch-enemies, the Italians, who may or may not be trying to steal his Arctic Circle candy.
The historic conflagration took place exactly one year ago. The 214th edition of "Pokey the Penguin" pasted the picture from Rick's Web page into the strip, showing the greasy-haired, scruff-goateed date-seeker meeting the comic strip's characters.
"MEET MY PAL RICK!!!" the hippopotamus says.
"HELLO FRIEND!" Rick Wallace says.
Rick then finds that his loser karma has followed him into the world of fantasy, as even the comic strip's penguin rejects him.
"RICK WALLACE THE ARCTIC CIRCLE IS FULL!!!!"
"GET HIM" the hippopotamus exclaims, as Pokey's sister draws a gun. Rick finds himself speaking in stilted, cryptic, Pokey-speak on his way to an unhappy ending. Rick Wallace's final words?
"ALAS! I WILL WANDER THE EARTH IN SOLITUDE!!!"
But that wasn't enough. Pokey apparently planned an ongoing series of appearances for Rick Wallace's picture -- maybe even making the photograph a recurring character. The very next strip -- "Pokey and the Airplane" -- originally ended with yet another surprise cameo by Rick's picture.
"MAY I HAVE SOME SODA POKEY???"
"NO!"
The real Rick Wallace wasn't amused, and soon Pokey received an angry email from Dr. Donald E. Wallace (apparently Rick's dad) requesting that the images be removed. Pokey complied -- but the Wallaces apparently hadn't counted on the strip's fans, who fished the images out of the "cache" where their Web browser saved pages they'd looked at. They then re-created both the comic strips, as well as countless mirrors of Rick Wallace's loser Web page. To this day, if you search the Web for the name "Rick Wallace" you can still find mirrors of his desperate pleas for a companion. And maybe, if you're lucky, Pokey's original drawings.
| | |
| --- | --- |
| | One beautiful thing about being an asshole on the Internet is that it's so damn easy! For example, you don't have to actually go out and find Rick Wallace in order to cast aspersions on him. Instead, just wait for someone else to do the legwork -- and then archive their site! |
One Web site even archives the correspondence between Pokey and the elder Wallace. When Donald Wallace complained about the mirroring sites, Pokey replied with a passive-aggressive response written in the voice of the cartoon character.
HELLO DR WALLACE HOORAY FOR POKEY THE PENGUIN!!!
PERHAPS I HAVE NOT MADE MYSELF CLEAR TO YOU YET!!! I AM NOT -- I REPEAR _NOT_ -- MAINTAINING ANY MIRROR SITES MYSELF!! WHAT THE ADMINISTRATORS OF THE MIRROR SITES DO IS -THEIR- BUSINESS AND -THEIR BUSINESS ALONE-!!
After adding "I DO NOT EXPECT YOU TO COME TO ME AGAIN REGARDING YOUR BUSINESS WITH THEM OR I WILL SEEK LEGAL REDRESS!!!" he pasted in the standard closing.
PLEASE CONTINUE TO READ POKEY AND HAVE A VERY FUN DAY!!!
THANK YOU FOR WRITING TO POKEY!!!!
HOORAY
POKEY THE PENGUIN
This represents a standard trick for assholes. When someone sends you an angry email, mock it online.

It will discourage people from sending you more email.

Rotten.com even scans the angry letters they've received from lawyers.
Let's review what we can learn from this episode.
* If there's something deeply embarrassing that's been removed from the Web -- fish it out of your cache and put it back!

* If you've had 0 dates in your life -- best not to advertise it.

*And always remember that there are mean people on the Web who will make fun of you. Hooray for Pokey the Penguin. Hooray!
See also:
Chatting for Assholes
Skepticism for Assholes
Voting Fraud for Assholes
Spamming for Assholes
Disposable Identities for Assholes
Anonymity for Assholes
Stalking for Assholes
Religion for Assholes
Death for Assholes
eBay for Assholes
Portals and Personal Ads for Assholes
Newsgroups for Assholes
Lou Cabron is GettingIt's resident asshole.
Internet for Assholes runs each Wednesday on
GettingIt.