Internet For Assholes
This week: Voting Fraud for Assholes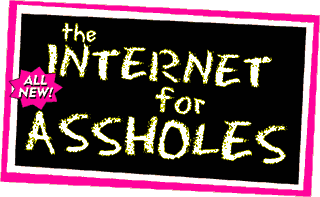 Recently the Web page for BBC Radio 1 asked readers to describe their favorite song -- the one that reminds them of their "most intimate, happiest, or saddest moment." One newsgroup's resident wise guy suggested everyone nominate William Shatner's rendition of "Mr. Tambourine Man." He then suggested that rather than voting for other bad songs as well, the group should simply nominate "Mr. Tambourine Man" over and over again. "It's more annoying that way," he explained.
Online polls offer a no-brainer way to fuck with Web pages. Polls are little more than a gimmick for generating traffic to undeserving sites. Usually it's corporations hoping to sucker visitors into telling their friends to visit the same site to vote -- and then to keep coming back to check the tally.
Calling all assholes! Here's your chance to hijack the obvious publicity stunt. Think of it as being "very interactive."
Throughout the annals of political science -- or at least the annals of Internet history -- there's been an unwritten law: Elections are won by whomever devises the best way to cheat. In 1998, the People magazine Web site blithely conducted an online poll for its "Most Beautiful People." But something unexpected happened: Front-runner Leonardo DiCaprio was suddenly displaced by Hank the Angry Drunken Dwarf, a recurring figure on the Howard Stern Show. The protest vote took a firm hold. People who'd never even heard the show commented: "I don't know who he is -- but I hope he wins."
Poll-stacking instantly became an Internet tradition. Four months after the People poll, an online vote for a gig on the "Emerging Talent" stage at Lilith Fair was hit. Yes, another clueless corporation was involved; Levi's sponsored this stunt. When they found one user had voted over a million times, they figured it would be fairer to just pick a winner at the head office.
That same month (remembering that MSNBC was Microsoft's joint venture with NBC) Bill Gates-haters saw an opportunity for petty revenge. When MSNBC asked users if they'd buy a copy of Windows 98, Macheads and other Windowphobes stormed the (online) ballot box. In the end, 54 percent answered: "No, I'll avoid it." The quality of the online votes quickly deteriorated. At about the same time, Random House accompanied their picks for the best book of the century with an online poll. Readers obliged, selecting TekWars, The Pope and her Yaks, and I Want to Blow Monkeys as the century's most important works of literature.
| | |
| --- | --- |
| | I Want to Blow Monkeys held down fifth place until someone at Random House realized that -- despite voter suggestion to the contrary -- the book wasn't written by Ayn Rand. |
And the hijinx have continued ever since. By now nearly four million votes have been cast for Time magazine's Person of the Century Poll, seeking to identify the person who "most influenced the course of history over the past 100 years." At one point, John Flansburgh from They Might Be Giants held down the #5 spot, just behind wrestler Ric Flair. The question had become: "Who has the most psychotic fans?" But the poll results soon tipped towards religious figures. Last time we checked, Billy Graham was #3 -- right behind Elvis -- followed by Pope John Paul II at #6 and Gordon B. Hinckley, President of the Church of Latter Day Saints, at #9.
As the meaningless dollops of demagoguery fall time and time again to whichever autocratic asshole wields the best vote-busting program, the obvious question arises as to why corporations still cling to this stupid feature. Do they blunder on despite the fact that online polls have been proven worthless, or because of it? Some suspect corporate Webmasters are secretly grateful for the notoriety of their unreliable results. News stories gloating about the meaninglessness of their surveys still generate traffic.

So what's an asshole to do? Generate results so stupid, it'll make them sorry they ever asked.
Here's an example. Buried somewhere on that behemoth of bad design better known as Pathfinder is TIME Digital's call for "the fifty most influential people in technology." To geeky assholes, that's the equivalent of waving a red flag at a rabid bull hopped up on bovine growth hormone. By October 3, votes indicated that the third-most influential person in technology was "Chad, Space Ghost's Evil Twin." Sure, TIME Digital's suggestions weren't uniformly better -- their menu of default choices included Pokemon, Barbie, and inexplicably, C. Everett Koop (maybe due to his geek-chic beard?).
But it quickly became just another poll gone bad -- and when cheating is this easy, the nominees amount to online graffiti. "TMF CMGI board is #1!," received 30 percent of the votes, catapulting the cryptic clause past Chad to the #2 spot. 1005 votes were cast for "Poopie Snugglepants." Other candidates for "most influential person in technology" included "scAMZN isn't worth a nickel!" and "The Net bubble will burst!!!" The next day, a new challenger emerged: 5338 votes were cast for "that really cool, rad, tubular, phat guy that does www.jaw187.com."
| | |
| --- | --- |
| | TIME Digital is screening for multiple votes -- but getting around that safeguard is a kind of geek litmus test. Several Web pages have risen to the challenge, offering a single-click button that performs the necessary tweaks. On October 5, Jason Kottke posted an update on his home page notifying readers that he'd reached the poll's #1 spot, "Through hard work, patience, and a lot of cheating." But the glory can be fleeting. Within hours, he'd slipped to #7. |
Some unsung geeks even developed a nifty trick. The names their buttons submitted included the address for an image -- say, a picture of Carl Steadman in his boxer shorts -- so that the results display that photo along with the vote tally.
Steadman, a co-founder of Suck -- was out of town and unaware of the prank, as his boxer shorts climbed steadily in the standings.
That pretty much says it all.
See also:
Spamming for Assholes
Disposable Identities for Assholes
Anonymity for Assholes
Stalking for Assholes
Religion for Assholes
Death for Assholes
eBay for Assholes
Portals and Personal Ads for Assholes
Newsgroups for Assholes
Lou Cabron is GettingIt's resident asshole.