Internet For Assholes
This week: Religion for Assholes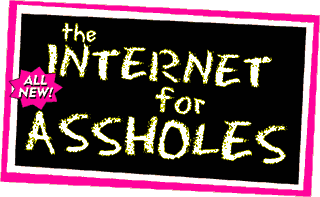 Tired of authors regurgitating pre-chewed hints in cheery, handholding "manuals" that sound like Mary Poppins? Fuck 'em! The real rush comes from following your natural instincts, expressing yourself in your own savage, earthy style -- and being an asshole. Those other books are for lightweights.
Let us be your guide. Sound your barbaric yawp!
This Week: Religion For Assholes!
See also:
Death for Assholes
eBay for Assholes
Portals and Personal Ads for Assholes
Newsgroups for Assholes