Pet My Prostate
Massaging the male G-spot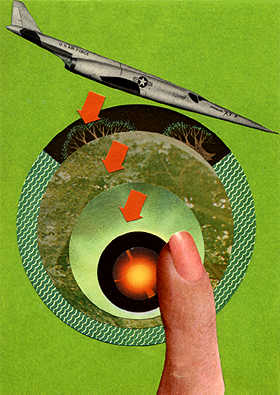 Most het males know it only as a sign of getting old, like when it's enlarged. Then there's the dreaded C-word. All in all, it's a much maligned gland.
But as gay guys understand, the prostate is the key to nirvana if treated right. Stroke it lovingly, and it will reward you with extra goo. Honest. For the uninitiated, the prostate gland surrounds the neck of the bladder and the urethra. It secretes the milky-white nectar that, along with sperm, makes up semen. About the size of a walnut, it's located behind and just above the base of the penis.
How do you massage it? Externally, you can rub it by caressing the perineum, the small stretch of flesh between the scrotum and the anus. However, internal prostate massage is where the really mind-blowing O's come from.
The person doing the rubbing starts by inserting a finger or two (or three) up his or her partner's asshole a few inches. The squeamish, for whom a brown finger is a gross-out rather than a delicacy, can use rubber gloves or administer an enema ahead of time.
Once the digits are in, massage toward the front of the body -- that is, toward the penis. You should be able to feel the prostate through the wall of the anus. Stroke gently -- no poking, please! This is a major erogenous zone for guys and deserves some respect. Prolonged prostate massage can induce a jumbo-sized orgasm in the recipient. Combined with a hand- or blow-job, it can create an out-of-body experience.
One gay man in Manhattan refers to prostate massage as "cracking the peanut," and says he experiences full-body orgasms which he calls "A Lady." Though his prostate orgasms are dry, commonly men report larger quantities of spunk than normal.
The prostate's not just for gay men anymore. Straight guys who are over their butt-fuck-phobia are getting into the act. Just imagine a hot, naked babe with one hand up your ass and the other strokin' your rod. Do me, baby!
If your girlfriend's not into it, check out the listings in the back of your local weekly. A lot of doms and masseuses actually advertise the posterior pleasure. No money? No problem. You can reach it yourself with a little practice. A vibrator, dildo, or cucumber can help do the trick.
Got a problem with sticking stuff up your butt? Come on, don't be a wuss. Use plenty of lube and think of Jenny McCarthy. Your eyes will be rolling back in your head in no time!
Stephen Lemons is a writer in Los Angeles and is saving up for his first prostate massage. Unemployed actresses willing to help him out for free can apply directly to GettingIt.