Big Hairy Pile Of Whoa!
Disability, piss, and death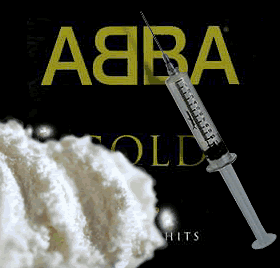 Land of the Blind
When a bank security guard saw Bruce Hall enter the bank, he helped the blind man to the teller window and then waited patiently just a few steps away for Hall to conduct his business. He watched in stunned amazement as Hall pulled a note from his pocket and handed it to the teller, demanding money. The teller looked at the security guard and mouthed the words, "It's a robbery!" She then handed Hall some money.
The security guard stopped Hall as he turned and attempted to briskly shuffle out of the bank. Bank spokesman Kim Cherry wasn't sure what to say about the attempted robbery. "It was the wildest thing," she said.
Piss Tax
Imagine it... the romantic vacation you've always dreamed of in Venice, Italy. As you walk down cobblestone streets to the sound of mandolins, you realize you have to take a piss. But you don't have the cash to pay the latrine tax. Do you rush to the nearby stream and let go in public? Do you sprint back to the hotel? Do you regret not buying that bladder-bag at kidneyfailure.com? The point is, if you've got a weak bladder, choose somewhere other than Venice to spend your vacation. The city now has a toilet tax -- the equivalent of 52 cents for each use of a public restroom. The tax is designed to help the city profit from all the tourists. Defending the so-called pee-pee tax, one city councilman says Venice is a small city with a huge tourist population that pees and craps up a storm. "We are a tiny population compared to the number of visitors we get -- we have to offer public services for 10 million people. It's impossible for us Venetians to pay those costs with our taxes.''
Dead Man Voting
How do you convince someone that you aren't dead when they're looking you in the eye and insisting you are? That's the question 74-year-old Ernesto Alvear of Valparaiso, Chile has been grappling with. For the third time, Alvear has been barred from voting in elections because poll officials keep insisting he's dead. "I'm tired of complaining without any success," Alvear grumbled. "I think this is the last time I am going to bother.'' The mix-up stems from the death a decade earlier of a man with the same name.
Peeping Tom Drops in for Visit
Timothy B. Guenther, 26, of Mountain Home, Arkansas, thought of everything -- well, almost. At just the right moment, he would climb into the crawlspace above a local tanning salon and wait for scantily-clad visitors to arrive so he could spy on them. He forgot one thing -- those ceiling tiles aren't very sturdy. As the women screamed in horror, Guenther picked himself up off the floor and bolted from the room. Thinking quickly, he locked himself in the bathroom. Unfortunately, witnesses saw where he went. Police arrested Guenther without incident.
Mountain Home Police Chief Carry Manuel said it wasn't the first time Guenther had done it. One of the witnesses recalled seeing a foot mysteriously appear from inside the ceiling a few days before, but said she had thought nothing of it at the time. Apparently it's fairly common for feet to be seen kicking through ceiling panels in Arkansas. Guenther is being held in Baxter County Jail on $7,500 bond, charged with felonious commercial burglary, harassment, and criminal mischief.
Dogs and Drugs Do Not Mix
Detective Dave Burr and James Searle of the Atlantic County Sheriff's Department Fugitive Squad knocked on the door of the Egg Harbor Township, New Jersey home. An arrest warrant had been issued for 31-year-old James Cooper, a deadbeat dad who owed $2,780. Cooper's girlfriend opened the door, hoping to buy time while Cooper crawled out a back window and scampered into the nearby woods wearing his underpants, but no shoes. He managed to get a head start on the unsuspecting officers, and might have eluded arrest had he chosen a wiser path. But the woods where Cooper hid happened to be the setting for the annual United States Police Canine Association National Field Trials and Seminars. Police handlers and their dogs were on hand from across the country and Canada for the event, and it didn't take long for them to find Cooper. During his hasty departure, Cooper also left behind his pot. He is being held on $1,000 bail in Atlantic County Jail, charged with resisting arrest and possession of marijuana.
Jeff Morris is a professional journalist who subscribes to the highest ethical standards of reporting... and other magazines, too.