Town Hall Hellhole
An online chat with President Clinton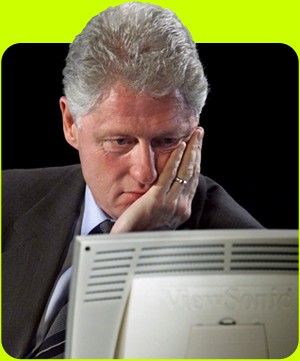 The Net finally lived up to its potential this week, and no, it didn't have anything to do with Mahir. When President Clinton went online for a virtual town hall meeting, he finally removed the media barrier that separates you, the public, from them, the big muckety-mucks. Sort of.
The conference, which Clinton compared to FDR's fireside chats and Kennedy's live press conferences, was a dud. Both the self-proclaimed Mayor of Silicon Valley and Net heavyweight Marc Andreessen had technical difficulties and were late to the chat. Predictably, gatekeepers kept the pesky public at bay, screening out inquiries relating to Monica Lewinsky and other potentially embarrassing subjects.
But still, the promise was there, and we can look forward to the day when politicians, captains of industry and aspiring starlets are all subjected to a barrage of questions from wannabe journalists and bored Net surfers. The Web promises that any hack with an axe to grind can call himself a journalist and pester public officials. This direct action access means that perhaps, just maybe, in the future we'll be able to get policy-makers to answer the questions we really care about: What really happened to JFK? How come, if the FBI didn't fire any shots in Waco, I can see gunfire on the videotape? Who shot Vince Foster? Where can I get a nice bottle of Cabernet Franc at a reasonable price?
In the meantime, a transcript of what we would have liked to have seen go down will have to suffice:
CoolBillyC: I'd like to talk for just a minute about the future of education.
Erac1217: Did Monica give good hummers?
CoolBillyC: I'll get back to that, but if we are to progress as a nation, there is no resource more vital than our children.
DarkLord: WHAT ABOUT PROJECT BLUE BOOK? I WANT TO KNOW ABOUT PROJECT BLUE BOOK.
Erac1217: I bet she had a stinky cooter. Did the cooter stink?
PopGrrl: The guy who played Crazy Cooter is a congressman.
CoolBillyC: Actually Popgrrl, that was Ben Jones and he's no longer in Congress. But getting back to education. Don't you want to hear what I have to say about education?
Snowvixen: Hot horny female looking for cyber
Teenangst: NIRVAAAAAANAAAAAA!!!!! Rules!
DarkLord: NO, WE WANT TO HEAR ABOUT PROJECT BLUE BOOK!!!
CoolBillyC: My plan for education will take us well into the next millennium, shaping the hearts and minds of our nation's youth into tomorrow's leaders today.
Snowvixen: measurements 37-24-32
Steve675346: nirvana sucked, im glad kc is dead.
Teenangst: Fuck you Steve.
BigDaddy: Age/Sex check
Spicerulez: 14/f
DarkLord: 42/M/SINGLE LADIES, I.M. ME!
PopGrrl: 26/f
Snowvixen: 23/F
Teenangst: 36/M
CoolBillyC: Hey snowvixen… wanna party?
Mat Honan would like to be taken siriusly.