I Kiss You!!!
Our mystery date with Mahir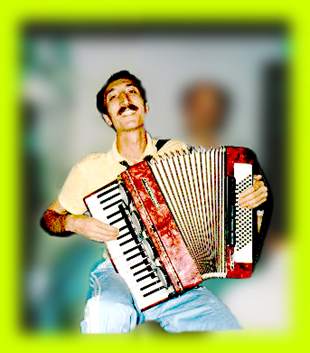 Who is Mahir Cagri? If you don't know by now, you've got exactly zero Net cred. He likes music, sport, travel, tenis [sic]. He likes... sex. He's the new Tom Cruise of the Internet, the raging Turkish stud clad in a Speedo, the undisputed master of table tennis, accordion-jamming Heathcliff, and the Net's virulent meme du jour.
We had to meet this Turkish fellow with the cheesy mustache and the cheesier Web page. ("WELCOME TO MY HOME PAGE !!!!!!!!! I KISS YOU !!!!!") A photo shows him intently playing pingpong, playing the accordion with abandon -- and, apparently, on his way to Internet fame, as the URL for his crappy Web page sped from newsgroup to newsgroup ("definitely the worst Web site I have ever seen," "A case for Internet censorship"). The address appeared in nearly 150 Usenet posts over the last week, and in nearly the same period his counter registered three-quarters of a million visitors.
Most of his buzz consists of people making fun of him. Sure, he likes "basketball, tenis , volayball , walk ........." and he notes, of course -- "I like sex." But we had to wonder, would he fulfill the object of his simple motives -- "to be friendship from different country"? We had to help him along. Because the Web is a global community. Because we like to be friendship from different country, too. And because we just couldn't resist fucking with his head.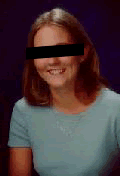 So one of GI's editors fired off an email to Mahir titled "I Kiss you back!!!!" via a freemail server, with an attached photo swiped from someone else's Web page. And with that, the lovelorn Tracy Talent was born, and immediately began her online affair with Mahir.

Hi,

Is your name Mahir? I love your Web site, and I kiss you back!!! Here is my photo, I like reading, travel, and sports. You are a fine looking man! Where do you live! Write back! Don't you love the Internet? I like it very much because it lets me meet people all over the world! Like you!

Bye,
Tracy

And Mahir wrote back!!!

Hi*

Thanks for your email and picture* I live Turkey-izmir
izmir nice town-4 million near the sea
I invite you my home--
My home-your home
I belive we could be good friend*
Where are you live*
write me about you*
I wait you----
Kissessssssssssss and Hugsssssssss

Mahir's response was so formulaic, suspicions were raised that he might be an auto-responder (and of course Mahir Cagri translates from the Turkish into "skillful invitation"). But we still had faith in Mahir, because as Rod Serling once said, never underestimate the power of the meek. Or, in this case, the power of the horny Turkish losers.

He's probably so flooded with responses, we argued, he's resorted to cut and pasting.

But either way -- we still couldn't resist messing with Mahir's head.

Hi Mahir!!!

Kissessssssssssss and Hugsssssssss right back at ya! My name is Tracy, I'm 23 and I live in San Francisco, California, USA!!! I'm single, and I don't have a boyfriend :(

I just moved here from Alabama two months ago, and I still have not met very many people here. Mostly I talk to my friends at home over the Internet. One of them sent me your Web site on email. Very nice! You seem so charming, so nice! Most guys out here are not nice, they are stuck up, and most of the ones in Alabama are not nice they were just mean.

I like Turkey, but I've never been there, but I want to go!!! OF course, I would need a guide... I would hope maybe someone who lives there might be able to show me around!

Maybe someone like you!!! :)

I've never met anyone from Turkey before, can you tell me about Turkey? I'd love to travel there one day.

smooches,
-TT

Mahir answered again -- but the emails got shorter and shorter ("Hi* I like you. Nice picture. x x x x x"). Mahir mania was taking its toll. The page had become insanely popular, and in one 24-hour period, his counter showed an increase of over 70,000 visitors. That guy could have a different date for every second of the day.

By Tuesday, it was mirrored at a vanity domain -- http://www.mahircagri.com/ -- along with the tantalizing promise that "this page will change in a short time." It was exactly the same as the original version -- except it no longer double-spaced the phrase "WELCOME TO MY HOMEPAGE !!!!!!!!! I KISS YOU !!!!!" and there was now a space between "music" and "enstrumans."

He also changed the text to a smaller font. But don't worry, ladies, he still likes sex.

And there was one additional sentence. We'll always remember the breathtaking, unforgettable moment when this new star took his first step into the spotlight.

"My Name is Mahir Cagri."

And with that, he went from unidentified, crazy Turk in a thong to Mahir Cagri: Internet Superstar.

It's tough dating a Net celebrity. On Wednesday, MahirCagri.com was inaccessible. (Maybe Mahir mis-set the permissions on the files.) But his original page contained the tantalizing promise that "new things are coming soon!!!!" And Mahir (or someone) had also removed the second Turkish phrase at the bottom of the page which, when translated, read, "If you want to advertise here, please email us." Apparently that's covered now. When it was accessible, MahirCagri.com had displayed a banner ad. Who knew playing the accordion could mean big money.

"Tracy" was heartbroken when she translated the first Turkish phrase at the bottom of the page. "This page is given here because the original is not online and there is not made any changes." We discovered that another version of Mahir's page -- without that text -- resides at www.istanbul.tc/mahir/. And it also included a mailing address, home fax and telephone numbers. (And a light background of bricks.) Maybe that page got too popular. It closes with the phrase "SiteOwner's Note: Pls. add 100000 to counter."

Or is it possible that someone stole the code -- and the images -- and has been impersonating Mahir this whole time? We tracked the newly found, if older, URL to someone from Craphound who said they'd seen it posted on The WELL. But the actual reference was lost to the vagaries of memory. ("The oldest one I can find has a partial header that indicates it came from someone working for the Canadian Federal Government in Ottawa.")

It was all getting too commercial for us. The last straw was when Mahir-mania hit a cutting-edge gaming site at Planet-Tribes.com. Joe 'Breaker' Seifert, a high school student in Pennsylvania, created an animated, audio presentation called "TurkStud" (already in version 2.0). A strobe light and techno music segue to the flashing picture of Mahir in his suit. The photo zooms in, arrows pointing to the bulge in Mahir's bathing trunks.

I like to have...

SEX!

Since this weekend, the crazy montage of photos from the Web site -- Mahir with the accordion, Mahir at the pingpong table -- has brought in 250,000 hits. People were even contacting the page's editor offering advertising deals. "It's all in good fun," says Planet-Tribes editor Anthony Maio, "and the proportions that this demo and this man have reached on the Internet make this whole thing even funnier."

We tried to call Mahir about it, but both the phone numbers on his page -- and even the mobile phone number he sent us via email -- had been disconnected. By now, he must be getting a lot of calls.

It was all too much for us. We finally had to call off the dogs. Though it was painful, we sent the letter every Turkish male dreads. The Dear Mahir letter.

Dear Mahir,

I don't know how to tell you this, so I'm just going to say it. We have to end our relationship :-(

When I saw that you had a sponsor for your Web page, I realized you're not the man I had fallen in love with!!!

You never email me any more. I guess you're too busy emailing all your OTHER Internet girlfriends. Plus I see you have become a big Web star. It's Mahir this, Mahir that.

I know this will come as a shock to you, but as someone said, it doesn't take a genius to see that the problems of two people don't amount to a hill of beans in this world.

And we'll always have Turkey.

Love,
Tracy

Sorry girls, Mat Honan is already taken, and has no music enstrumans he can play. And Lou Cabron hates the accordion.