Big Hairy Pile Of Whoa!
More inanity than you can shake a leg at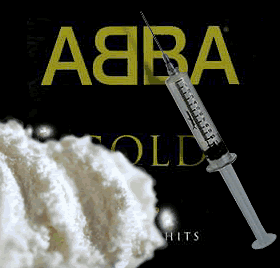 Cat Crap Fever
In one of the oldest gags known to the education community, an elementary school teacher in Joplin, Missouri, taped a bag containing cat feces to the desk of a misbehaving student. She says she was just being funny, but the boy's parents aren't laughing. In fact, they want the teacher suspended and they are planning to transfer their son to another school.
It all started when 11-year-old Preston England told a classmate in his Joplin, Missouri, elementary school to go "suck a turd." The next day, Preston arrived at school to find his teacher, Diane Parker, had taped a baggy filled with cat droppings to his desk -- then she made him sit by it for over an hour.
"It would have been fine if she had just sent home a letter saying my son was mouthing off in class, but instead she went ahead with this ridiculous punishment,'' Stephanie England, the boy's mother, said. "This whole thing stinks.''
Sorry, Wrong Address
The Washington Post reports that the Baltimore Housing Authority sent a crew to demolish a building on 13 North Eden Street. Workers arrived to discover that the electricity was still on inside the building and assumed a mistake had been made somewhere along the line.
Using the type of critical thinking skills we've come to expect from government employees, the crew concluded that the building to be torn down must really be located on 13 South Eden Street. So, off they went to the south side where they smashed and demolished, as they were wont to do.
As they stood in front of 13 South Eden, now nothing more than a pile of rubbish, somebody broke the news to them that they had demolished the wrong building. Instead of an empty, city-owned building, they had demolished the headquarters of the South and Southeast Development Organization that provides food and educational services to the poor.
Deadly Kink
His license to practice medicine was suspended 22 years ago after he performed what authorities called "shoddy" sex-change operations. Last Tuesday, he was convicted of second-degree murder in connection with the death of a man who requested that a healthy leg be amputated to satisfy a sexual fetish.
John Ronald Brown is facing life in prison following the amputation that claimed the life of Philip Bondy. Bondy, 79, paid Brown $10,000 for the operation, which took place in a Mexican medical clinic in May 1998. Bondy was sent to a hotel in suburban San Diego to recover, where he died of gangrene poisoning.
Prosecutors say Bondy called Brown complaining that he was bleeding and oozing from the stump. Brown reportedly re-wrapped the leg and suggested Bondy take more pain medications. Gregg Furth, a New York psychologist, testified that he and Bondy had contacted Brown because they each shared a sexual fetish known as apotemnophelia: sexual gratification from the removal of a limb. Furth testified that he didn't go through with the operation because he saw a Mexican doctor who was to assist in the surgery walk into the clinic carrying a butcher knife.
I Want You!
England historically kept crime rates low by shipping criminals off to Australia, Georgia, and other foreign lands. Looks like they're at it again, only now they call it "military recruitment."
Britain's volunteer army is 4,000 recruits below strength and is thinly stretched due to peacekeeping commitments in Kosovo and East Timor. So in an effort to find new recruits, the British are sending recruiters to jails to talk to juvenile inmates about joining the military.
"The army is looking for the best new recruits, and if some of these can be found inside young offenders' institutions then so be it,'' a Defense Ministry spokesman said.
And You Thought Nixon Was Crooked
If you see Abe Lincoln walking around Maryland or Virginia, call the authorities immediately. The chances are good that he's the bandit who robbed 10 stores over the past seven months.
Police are calling him "Dishonest Abe," a brigand who dresses up like Abraham Lincoln, complete with the stovepipe hat, black coat, and fake beard. He sometimes has an accomplice, who also sports a phony beard.
The FBI has been called in, and they say these disguises are clever because they distract victims, who remember the disguise but not facial features or other details that could help authorities find the culprits.
Jeff Morris is a professional journalist who subscribes to the highest ethical standards of reporting... and other magazines, too.
Big Hairy Pile of Whoa runs each Friday on GettingIt.