Big Hairy Pile Of Whoa!
Heroin, Pinochet, ABBA -- oh my!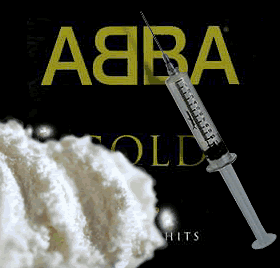 It's the Thought That Counts
It was a golden wedding anniversary gift from their daughter -- a vacation in sunny Miami. Giddy with expectations, the entire family headed to the airport in Bogota, Colombia. But as they checked their baggage, alarms went off.
The second surprise was that their daughter had packed a few extras in each suitcase: like $370,000 worth of heroin, according to a spokesman for the Colombian state security police, D.A.S.
D.A.S. agents reported finding almost eight pounds (3.5 kg) of heroin packed in multiple pieces of luggage belonging to the group. The elderly couple looked on in horror as their daughter admitted she had concealed smack in the bags and her relatives knew nothing of her scheme.
Authorities did not detain the elderly couple. "We didn't want to arrest the two old folks for humanitarian reasons," the D.A.S. spokesman said.
Your Tax Dollars at Work
A former professor at John Jay College of Criminal Justice stands charged with experimenting with heroin while conducting a federally-funded study of the drug. Ansley Hamid, an anthropologist, received a $3.1 million federal grant in 1996 to examine heroin use and distribution in Manhattan. At the time, it was the largest research grant ever given to the college (a center for research, consultation and training support for criminal justice agencies).
The complaint accuses Hamid of embezzling funds from the grant to pay for unrelated personal and professional expenses. In particular, Hamid is purported to have instructed another grant employee to use funds to buy heroin for junkies being interviewed... as well as for Hamid. Hamid is also accused of financing trips to Florida, Hawaii and Trinidad with the grant. A witness has told authorities that Hamid described these journeys as "one big party" and had no intention of conducting research.
What may be the most heinous accusation -- a crime against humanity, if you will -- is that Hamid used some of the proceeds to buy an ABBA CD. Are his claims that he deserved to listen to music while working valid? Did he buy it for the song "Dancing Queen"? What could make a man sink to such depths of depravity?
If convicted, Hamid could face a maximum of 10 years in prison and a fine of up to $250,000.
Astrologer: Former Dictator Will Die in Exile
Chile's 83-year-old former dictator Augusto Pinochet is already battling extradition from Britain to Spain, where he would face torture charges. Now comes a prediction from an astrologer who says he will spend his final days outside Chile.
"It won't be soon, perhaps in a year,'' astrologer Karoly Aparicio was quoted as saying in Thursday editions of Santiago's afternoon newspaper La Hora. "Reading his cards, I see at the moment that Saturn is in Cancer together with the moon. Saturn is regent of house number eight, the house of death in exile,'' Aparicio said.
Critics say Aparacio's prediction is likely to come true since Pinochet is already knocking on death's door. He has diabetes, wears a pacemaker, and suffered two strokes last month.
Aparicio has made other startling predictions concerning Pinochet that have come true: Someone will knock on the door... the phone will ring... he will change his socks.
Robber Makes Mad Dash, Caught Anyway
It was the sort of scene tellers from NationsBank in Pensacola, Florida, had prayed would never play out... but it did. A man walked up to a teller and handed her a black bag with a note that read: "Robbery... give me the hundreds."
Fearing for her life, the teller put the money in the bag and handed it to the crook, hoping no one would be killed. The vicious thug, 88-year-old J. L. Roundtree, then turned and casually started out the door. Hearing an unidentified bank employee say they'd been robbed, Clarence Grandison, a customer, said he politely asked Roundtree to stop near the door.
Ignoring Grandison, whistling and looking around, Roundtree walked out of the bank. He then took off at a sprint across the parking lot. Police won't say how fast the homeless senior citizen was running, but two people were able to catch him without getting winded. Fortunately, he wasn't armed.
Authorities believe Roundtree is the oldest man ever to attempt robbing a bank.
Jeff Morris is a professional journalist who subscribes to the highest ethical standards of reporting... and other magazines, too.