Choosing A Condom
Fourteen rated rubbers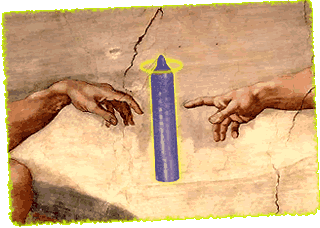 Icreamed and screamed through a marathon orgy of hot rubber-loving last weekend -- it was condomania at my house as my play-partner and I shagged with a plethora of diverse prophylactics.
Fourteen separate sex-sheaths were stretched over my tight torpedo for soggy subterranean action. Our erotic experiment revealed wild diversity in libidinous latex: Taste, fit, structure, stubs, color, and thickness gave individuality to each boinking brand.
In this chart, I've listed the pros and cons of each penis/pussy protector -- 14 condoms; 14 contrasting copulating qualities.
Hank Hyena is a columnist for Sfgate.com and a frequent contributor to Salon.