Celebrating October
It's not just about Halloween anymore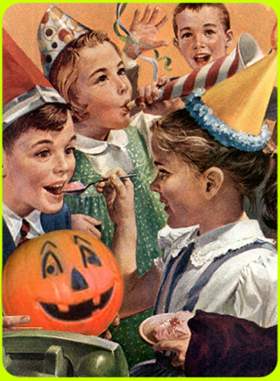 Sure, Halloween's right around the corner, but do you find yourself wishing for a little more meaning to add to your month? Never fear. October is filled with thrilling celebrations from a variety of special interest groups. You'll be sure to find at least one you like from among the list... so join the party!
(Please note: GettingIt's recommendations on how to observe the following festivities might not jibe with the sponsoring organizations' plans ... but ours are much more fun.)
Adopt A Shelter Dog Month: The public is encouraged to volunteer to participate in a variety of activities, from scooping up droppings to manning the euthanasia needles at their local humane shelters.
Auto Battery Safety Month: Do you have a couple old car batteries taking up valuable room in your garage? Throw them out on the lawn. Watching the toxic residue seep into the groundwater will teach your kids a valuable lesson about battery safety.
National Liver Awareness Month: You have a liver. It's true.
Computer Learning Month: Sponsored by the Internet search engine company Yahoo!, Computer Learning Month's motto is, "Hop on the Internet where lots of information and uncensored pornography await you."
Healthy Lung Month: During your last X-ray, if there were no black spots on your lungs, it's time to brag about it. Point fingers at those with unhealthy lungs, and dance a jig at your good fortune!
National Disability Employment Awareness Month: Sponsored by the Association for Legal Recourse Action Committee, this month-long celebration encourages employees and those injured on the job to learn what their rights are, and if they haven't already sued their employer, to ask themselves one simple question, "Why not?"
National Medical Librarians Month: They are the unsung heroes of the medical research industry... the masters of the Dewey Decimal System who ask for nothing but one simple favor: Put the damn book back where you found it!
Talk About Prescriptions Month: It's the one subject your family and friends don't hear enough about: the prescription medication you're taking. They want to know all the details about the effect your medicines are having on your bowels, the chalky taste, and gag reflexes those horse pills bring about. Strangers love hearing about it in restaurants, too.
Vegetarian Awareness Month: Thank them for doing their part to ensure that the rest of us have enough meat to eat.
Jeff Morris is a professional journalist who subscribes to the highest ethical standards of reporting... and other magazines, too.