Ricky Martin Roulette
Want to bet he's gay?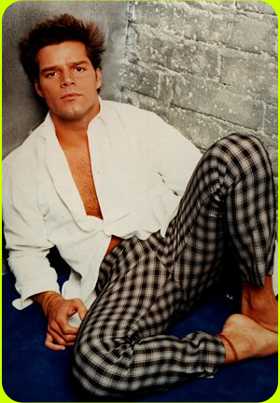 SAN JOSE, Costa Rica (Wireless Flash) -- An online casino must have the inside scoop on Ricky Martin, because it's laying 6 to 1 odds the Latino superstar will come out of the closet before the end of the year.
The Costa Rica-based cyber casino, run by NASA International, accepts bets on just about anything -- including whether Hillary Clinton will dump Bill (3 to 1 odds... Do they know something the press corps doesn't?), whether Puff Daddy will be the victim of a gang hit, and whether Pam Anderson will dump Tommy Lee by May 2000.
The casino pegs Leonardo DiCaprio's potential for a drug overdose within a year at 9 to 5 odds and gives Warren Beatty 40 to 1 odds that he will win the Democratic presidential nomination.
A NASA International spokesman says the casino will place odds on almost any event, although it decided not to place odds on Hurricane Floyd's death count on the grounds it was "distasteful."