Two Chicks, True Adventures (Part One)
How to be the MacGyver of bondage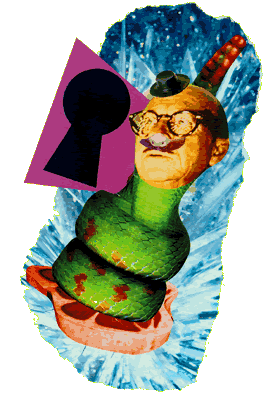 (The following is the first in a series of true stories. Come along as two GI editors search the streets of San Francisco for sexual hi-jinks and intrigue.)
Now that I have you all gathered here, I'd like to talk to you about Amway products."
That was the first thing we heard - a nervous joke made by somebody in the crowd outside the door to Quality SM (QSM), a warehouse full of the naughty books and magazines that are the lynchpin of QSM's alternative mail-order business. We were there to take a class on how to tie people up and hang them from the ceiling. It was called "Suspension on the Fly," taught by the world-famous fetish diva Midori.
We glanced around and noted the lack of cologne samples and paper towels. Sure, we realized the Amway guy was joking, but the S&M scene in San Francisco really is like a middle class tupperware party. Aging hipsters pay a sliding-scale fee to sit in a semi-circle of metal folding chairs and argue about the proper diameter of PVC tubing and whether wratchet webbing comes in any other color besides yellow. Not that there's anything wrong with that. In fact, if you're looking for safe, informative and comfortable classes on the nuts and bolts of S&M, Quality is a great place.
But we wanted something more. We wanted to suspend people on the fly, and do things to them they wouldn't be able to resist, and we wanted to report on it like the journalists we are.
We sat down in our folding chairs with our reporter's notebooks out and waited to learn how to tie up someone at a moment's notice. Cara envisioned stringing people up on the street while waiting for the MUNI, perfectly decked out in leather pants and a corset.
But after watching 45 minutes of Midori twisting, pinching and assembling a huge box of plastic tubing and chain, we decided we were having issues with the phrase "on the fly." Who can bother to carry a box of PVC tubing and six feet of heavy chain with them wherever they go? And for that matter who even has an extra large C-clamp to stuff in their back pocket?
But no one else seemed to notice. And when one of the audience members brought up "those BD/SM wannabes," we began to sink lower in our chairs. Perhaps true bondage afficionados do have their tools always handy. (Note to selves: go to Cliff's Hardware and browse "expertly" through the Bondage aisle).
Midori, the self-titled MacGyver of Bondage, had some good tips: stretch before playing with bondage and be fully hydrated. Being tied up is a physical activity, whether it looks like it or not. Other miscellaneous things we jotted down: we shouldn't expect all the people we suspend to be tiny and perfectly limber like Chinese acrobats; limbs are merely an accessory to the torso; and photo shoots mislead people.
After all the dull talk of buying bondage gear at K-Mart, and a seemingly endless discussion of whether it was possible to suspend somebody upside down if they had glaucoma, Midori finally tied knots. Her suspension object of choice was a lovely butch young woman whom Midori kept referring to as "boy" or "that child."
At first, we were nonplussed. The "boy" was tied to a sling and then hoisted up, only to have Midori kick her around a little bit. Here was our concern: using a sling seemed kind of like cheating. After all, a sling is a pre-made suspension item, not something Midori had rigged up right that minute. On the other hand, if you want to suspend people "on the fly," then a sling might be just the ticket. Perhaps we were finally getting a taste of speed bondage at last.
And yet it was the more complex, not-on-the-fly bondage - involving no slings, only rope and straps and Midori's special interrogation techniques - that really appealed to us. The boy, blindfolded and grinning infectuously, was fitted into a parachute-style setup, her legs pulled apart, her torso suspended with ropes, and then slapped around and expertly pummeled by Midori. Mewing in a rather charming way, the boy swung back and forth from Midori's chains and PVC, beaten but nevertheless truly suspended, unable to escape her mistress' clutches.
It was like watching the Catwoman and Robin scene you always hoped you'd see: Catwoman tormenting her little hero boy prey for purely sexual reasons, not for some allegedly political urge to take over the world or something.
But of course, there was no sex. The boy was wearing clothes (quite a bit of them, actually); and Midori was also fully dressed. In fact, as it turned out, most suspension is not done on nude bodies - ropes, after all, chafe horribly. Midori did make a number of cheeky comments about tying people up so that "certain parts are exposed," but never demonstrated what that might mean when potential chafing is involved.
And so, on our very first True Adventure, we experienced a certain degree of uncertainty and confusion. There was no actual "suspension on the fly," nor was QSM's idea of BD/SM quite as, well, sexual as we had imagined it might be.
It made us think about Dan Savage, and what he would do in this situation. Would he stand up and point out that this "on the fly" thing was a farce, and moreover that we had come to see some sex, dammit, and there was none to be found? Or would he sit quietly, writing it all down for some tell-all in Salon later?
We wracked our brains. The question really was an existential one: how to know for sure what the most Dan Savage-esque response would be? As we stood outside QSM smoking cigarettes and watching the crowd disperse, we realized there was only one thing we really could do.
We would write Dan a postcard about our lives everyday, hoping that he would take an interest in advising us. And so we addressed a postcard to Dan Savage in Seattle.
"Dear Dan," we wrote, "Today we wondered what 'suspension on the fly' really meant. Then we had a cigarette."
Will he write back? These two chicks will keep you posted.
Cara Bruce is the editor of VenusorVixen.com and Viscera: An Anthology of Bizarre Erotica. Annalee Newitz is currently frustrated because the porn video she rented didn't have an enema in it.