Bizbuzz
Angelica Bridges, Fiona Apple, Susan Lucci and more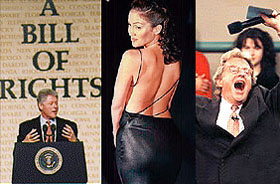 Deep thoughts. This month's Bikini magazine features former Baywatch babe Angelica Bridges discussing such important topics as her natural hair color and her sexual habits. Angelica says that although she hasn't been spanked herself, she's administered a hit or two because "…Some boys are very naughty and need to be spanked." Some girls are very annoying and need to be slapped.
Is longer really better? Rolling Stone reports that Fiona Apple's forthcoming CD will be called, "When the Pawn Hits the Conflicts He Thinks Like a King What He Knows Throws the Blows When He Goes to the Fight and He'll Win the Whole Thing 'Fore He Enters the Ring There's No Body to Batter When Your Mind Is Your Might So When You Go Solo, You Hold Your Own Hand And Remember That Depth is the Greatest of Heights and If You Know Where You Stand, Then You Know Where to Land and If You Fall It Won't Matter, 'Cuz You'll Know That You're Right." The abbreviated title of the album will be "Nonsensical Ramblings of a Pretentious Brat."
A kinder, gentler Woodstock. Culture snobs who want to experience Woodstock can now be exposed to the festival in an off-Broadway play. Westwood One Radio Network reports New York's Douglas Fairbanks Theater is housing a performance featuring music from the original event. The show's creators are hopeful it will have a lengthy run, provided theatergoers don't set fire to their playbills.
With a fresh, clean scent. TV Guide reports soap star Susan Lucci is coming out with her own perfume, which will be available on the Home Shopping Network. Lucci says she collaborated with France's Givaudan Roure perfumery on the product. The scent has a special time-release formula; it lasts 19 years before it's noticed.
Halo hunting. Casting directors are still hard at work filling roles for Charlie's Angels, the movie. Drew Barrymore and Cameron Diaz have already been cast as "angels," but the search continues for someone to round out the trio. The film's creators say they're looking for someone who is attractive and tough, but still in touch with the feminine side. Negotiations are currently in the works with Ricky Martin.
Ice girl cometh. Figure skater Tara Lipinski is continuing to crossover into the world of acting. Infobeat reports Tara's latest role is in a Fox Family Channel movie called Ice Angel. The Olympic gold medallist will play a figure skater whose body is housing the spirit of a male star hockey player. Let's hope she gets to keep his voice.
Jail break. Robert Downey Jr. supporters have started a letter writing campaign to get the actor out of jail. Mr. Showbiz reports that Downey's friends and family have launched a Web site encouraging fans to join in their effort to get him out of prison and into rehab. The Web address, for those looking to help, is http://www.findarealcause.com.
Melissa is a disc jockey at WBCN-FM and a music news reporter for Rage TV, both in Boston. She hopes someday to be a celebrity in her own right, and promises BizBuzz an exclusive.