Orgasm On Demand
Celebrating the body erotic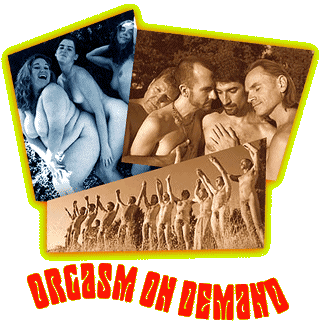 Feeling unhealthy? But you know all you need is a warm total rubdown, with a cathartic climax? Who do we call, for a medicinal hand-job?
The answer is Body Electric School of Massage. It's been the world's foremost "erotic healing" center for the last 15 years. Students enrolled in their "sacred sex" classes learn how to sensitively touch ALL the tender areas of the wistful human physique. The result?
Satisfied clients receive powerful "full-body" orgasms!
Ahhhhh... Just what we needed...
Headquartered in a modest storefront in Oakland, California, the Body Electric School has attracted sufficient pubic/public interest to tour it's teachings to sixteen North American locations: from Dallas to Toronto, from Hawaii to Boston. A palpitating array of workshops is offered -- pupils can enroll in classes ranging from "Sacred Wrestling for Women," to the orifice-enlightening introductory course, "Celebrating the Body Erotic."
Skeptics may wonder: How does the Body Electric touch-technique differ from a $30 jerk-job in a sleazy skin parlor?
"The difference is in your level of consciousness," explains Karen, a former student in a women's "Body Erotic" weekend workshop. "When someone massages me 'spiritually' there's a sense of being honored. Plus, you're doing all this specific breathing, and you're in an altered state. The goal isn't to just 'get off' -- it's to raise the energy and heighten the sense of awareness; to use erotic energy for a higher purpose. It becomes a form of prayer."
Spiritual sex? "We've borrowed from many traditions," explains Ken Oakley, the institute's Associate Director. "Primary influences are Tantra and Taoism; additional sources are Sufism, Christian Mysticism, Paganism, and the work of Wilhelm Reich."
Body Electric's genesis began with a non-sexual Massage Certificate Program (that continues to thrive) and sexy seminars for gay men. Man-man workshops now include the "Celebrating the Body Electric: Level 2" course that teaches an "anal massage (that) releases contracted pelvic muscles," and a 4-day "Big Island Retreat" in Hawaii, which promises a "circle of loving brothers" where participants will "learn the hula as a sacred body expression."
Gay-guy events continue to dominate the curriculum, but today Oakley claims, "We honor all people, all spiritual paths, and all erotic paths. Straight, bi, gay, or 'not sure.'"
Women's workshops include a six-day "Dancing The Fire Within" camp, and a one-day "Erotic Body" course that will "awaken the natural energy and rhythm of the pelvic cradle." Female "Body Electricians" are also awarded a newsletter that's vaginally labeled, "Out on a Quim" -- essays posted here proudly proclaim their affiliation with "the ancient tongue of the Temple Whore."
Heterosexual Couples seeking spice in the straight life are provided with enticing options, like the "Two Spirits" erotic retreats that "awaken connections between ... feminine and masculine." Even shy students can ease into the organization's orgasmic arena by purchasing solo videos on "Evolutionary Masturbation" and "Uranus: Self-Anal Massage."
Undoubtedly the bravest, most altruistic work contributed by The Body Electric School is its Mother Theresa-ish emphasis on treating patients with AIDS and other life-threatening diseases. Numerous graduates and instructors serve as "midwives for the dying" -- they provide "sacred hand-job" pleasuring sessions to patients who are deprived of erotic possibilities by the severity of their illness.
How does Body Electric succeed in getting absolute strangers to lovingly fondle and frig each other in workshops?
"I felt nervous at first," confesses Karen, the "Erotic Body" student. "I was wondering, 'how did I get here? Do I like these people?' But then ... you establish intimacy and trust by looking into each other's eyes and breathing together. It's scary, but you get used to it. You feel comfortable, close, and the people you just met don't seem like strangers at all. It's a crash course in intimacy; the classes are extremely well-structured."
In an erotically utopian world, Body Electric's holy hand-job treatments would enter the mainstream of modern health care. Anal-release practitioners would rival psychiatrists. Orgasms would be prescribed instead of antibiotics. Nurses would swaddle convalescing patients in caresses, instead of just bandages, and "spending a giant wad" at the doctor's office wouldn't refer to medical bills...
Hank Hyena is a columnist for SfGate and SfMetropolitan, and a frequent contributor to Salon.