I Scream, You Scream
Healing the wounds of the Atlanta massacre with Phish Food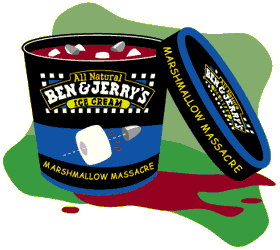 Iwork in the infamous Two Securities Centre, site of the recent shooting rampage in Atlanta. My desk sits about 40 feet from where it all went down. It was, obviously, a very disturbing/frightening/ fucked-up event. Entering the building the next day was bizarre -- passersby wary of each noise made in the lobby, prolonged stares, eerily quiet, wallpaper haphazardly taken off the walls on my floor (bloodstains you see). It was far from business as usual.
The weeks since have been equally odd, despite the calm that followed the storm. Two weeks ago, as I dropped off some mail at the postal center in the lobby, I knocked on the half-door to say hey to Merle, the mail guy. He spun around with a "holy shit" expression on his face, "Oh, Rob, shit, dog--you scared the hell outta me!" Merle is 6' 6" and about 350 pounds. He's a former college-football lineman who doesn't scare easily, but such is day-to-day life in an office building where nine people were brutally shot down.
It was in this atmosphere that I entered the office last Tuesday to find a flyer on my desk for an ice cream party. It seems as if the brain trust that is our building management company had finally decided to get some closure on our little slice of tragedy by teaming up with Ben & Jerry's for a "Reclaim Our Building" ice cream social.
I speak for most people in my office when I say that I'll take ice cream over therapy any day. Who needs Prozac when there's Chunky Monkey to be had? We were ready to put this behind us, and yappin' it up with the rest of the unstable people in the building while neck-deep in Chocolate Chip Cookie Dough was just the elixir we needed.
Finally, the day of the social rolled around and I was high-stepping it downstairs at the 1:15 post-lunch friendly-time to wash down my PTSD with a scoop full of lovin' from Ben & Jerrys. The two B&J reps -- fashionably attired in dreadlocks and sporting bloodshot eyes as an accessory -- were happy to serve. However, I noticed that while one bent over to serve, the other kept nervous watch under darting, half-shut lids. There are still a few day traders left in the building, after all.
With cup in hand, I awaited my coworkers' arrival so that we might share in the emotional cleansing that intensified with every bite from the plastic spoon. Soon, the plaza was filled with suits and skirts reveling in the ice cream catharsis. It was as if the river Jordan flowed under the building, and we danced to a scratchy Dead bootleg one of the B&J guys was playing through his van. Over the laughter and music, you could hear occasional shouts of "Freedom!" and "Liberty!"
Before long it was 2:15, and all that remained were some fat-ass travel agents from the 5th floor grabbing fistfuls of sprinkles as the two B&J guys with the munchies took turns spooning the remnants of World's Best Vanilla from the bottom of the tub.
I walked toward them and thanked them for healing our souls. "Right on," said one, bobbing his head. "We're here to help," mumbled the other through a mouthful of vanilla.
Help you did guys, help you did.
Rob Poynter is an Atlanta-based actor and comedian. He is lactose tolerant.