Potato Prick Tease
'Nympho artist' carves puds from spuds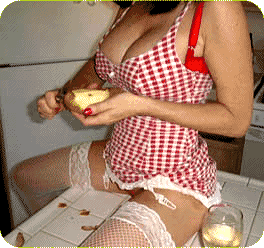 It's not every day a man gets a potato carved in the likeness of his cock -- by a Russ Meyer wet dream, no less.
My assignation with Pommela de Terre was scheduled for a hotel room near LAX. The brunette 33-21-34DD was flying into La-La Land just to sculpt me. Though she lives in Hollywood, as all good bombshells should, she had been in Northern California when she got my call. She moved heaven and earth to get to me -- all for a gander at my manhood.
I'd seen Pommela on her Web site, playing with her disembodied pet potato penises, inserting them into every delicious orifice, nestling them in her cavernous cleavage, spreading her gorgeous legs for them, devouring them whole with her thick, candy-apple-red lips.
And I'd spoken with her by phone. Her voice was throaty, dripping with sex. When speaking of her avocation, she'd make this wet smacking sound that would've given Bob Dole a pre-Viagra stiffy. It sent a shiver up my spine when I thought of it.
She spoke of her fascination with male anatomy, of how she loved licking, stroking, and easing hardened cocks into her nether regions and holding them there until they jerked and spat out their primal goo. An actress and burlesque performer, she could live off both. But she preferred carving potato penises -- her life's work.
"It's like I'm a nymphomaniac-artist," she told me. As Pommela de Terre -- her nom de sex -- she has the best of both worlds.
Once at the hotel, I felt confident. But my confidence disappeared once the door to her room swung open, and I saw Pommela waiting for me, an emerald-green flower of decadence, swathed in a form-fitting, iridescent fishnet dress.
Underneath, she was all lightly tanned skin, save for green panties and black brassier. Clear plastic, open-toed high heels revealed a pair of exquisite feet, toenails painted crimson. Raven tresses caressed her shoulders. Long lashes augmented her greenish-brown eyes.
It was the first time I'd seen her face. It's not on the Web site. "They all want to see the face," she explained of her subscribers. "It's like the package isn't complete unless they see the face."
She was a looker -- that's for sure. Probably in her late twenties. With her small, upturned nose, she reminded me of Elizabeth Montgomery's Samantha on Bewitched. Or more precise, her mischievous cousin, Serena. Pommela could easily get a gig with Penthouse or Hustler.
On a glass coffee table to my right, in front of a couple of stuffed chairs and a sofa, were five large russet tubers, one bottle of lemon juice, a small kitchen knife with black plastic handle, and a clear bottle of extra-virgin olive oil. The tools of Pommela's trade.
We sat down. It took me about 10 minutes of panicked fidgeting to get my tape recorder going. I thought I'd broken it, but I'd just clicked on the pause button by mistake. Interviewus interruptus. Pommela was forgiving.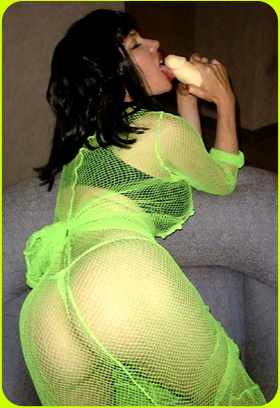 "I seem to have that effect on men," she laughed. My machine purring, we talked of many things: her Sicilian-Swedish heritage, her formal training in sculpture at a small L.A. art college and her theater and film work. I took notes to keep from staring. When I inevitably did, her eyelids would close halfway and she would lick those glossy, swollen lips. I'd look at her, entranced, unable to break away.
Why potatoes? Because of the way they feel. ("A freshly carved potato penis is almost as good as the real thing.") How many potatoes carved since the site's June debut? Nearly 100. And so on. My eyes fixed on her toes, hypnotized. I snapped out of it when she told me she'd been carving penises since age eight. Eight?
"I used a lot of different mediums, even Play-Doh," she grinned. "I've always been sexual. At that age, I was fascinated because I could see a bulge, but I couldn't really see what it looked like. I figured it was long and had a nice round head. When I finally got to see one, I was like, 'Yeah!'"
At art school, there were classes with live male models, and Pommela got to hone her craft. It wasn't until the rise of the Internet that she thought she might be able to support herself with her avocation. She now takes orders from all over the world. Sometimes she sculpts and performs in person. Sometimes she works from photos.
"Ready to get started?" she asked after about 45 minutes. I gulped and said yes. Pommela closed the shades and dimmed the lights. She grabbed the knife and a jumbo-sized tater, sat on the couch facing me, spread her legs wide and started to whittle.
"Feel free to get comfortable," she said, leering at my crotch. I swallowed a glass of chardonnay -- provided to loosen me up -- and began to feel warm. She constantly lathered on olive oil, which helps her cut, and lemon juice, which acts as a preservative. Juice and potato pieces got all over her hands. Every few moments, she licked either herself or the potato. The warmth migrated, and I felt my little pal tugging at the fabric of my slacks. I loosened my belt and eased my pants down. John Thursday was awake and bulging. I stroked him lightly to ease the pain.
"Oooh, he's nice and thick," Pommela cooed as she carved. When it comes to length, I'm standard issue. But I've been told many times that I'm thicker than normal. This comment usually comes after passing home plate, not while some phat babe is capturing my member with knife and potato.
After 15 minutes of Pommela carving, molding, and sucking her Solanum tuberosum, the likeness was finished -- an exact replica of my own penis, complete with veins and grooves (that is, if you were to cut the little monster off about halfway). It was an amazing sight, a tribute to Pommela's skill.
"What now?" I asked.
"Whatever comes naturally," she replied. "I don't want to leave you hanging." Pommela then set about mimicking the potato play I had seen her engage in online. Heels off and legs up, she began rubbing my starchy doppelganger between her colossal breasts and over her still-veiled mons venus, occasionally pausing to plunge him in and out of her mouth. I hoped the panties might come off, but after about 15 minutes, I popped my cork, a gusher soon mopped up by the towel Pommela had placed to my left.
Our business done and my pants back on, we chatted for a bit and had a drink from the mini-bar. All very civilized.
The alcohol marinated the buzz from my orgasm. Pommela spoke of her desire to expand, have an art show, do larger performances, etc. I listened, but just barely, still in a haze. Soon she wrapped my turgid tuber in plastic, so I could take it home, and sent me on my way. Right now it's in my refrigerator, still looking fresh. Pommela says if I shellac it, it'll last indefinitely. Or I could eat it. Fry it up, with some ketchup on the side. Mmmm, mmm. For whatever reason, I can't bring myself to throw it away. Maybe I'll freeze-dry it, get it bronzed, and hang it on my mantle with an autographed picture of Pommela -- before she gets famous, as she's bound to do.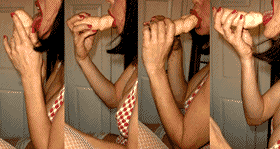 Stephen Lemons is a full-time writer and sex-fiend who contributes frequently to New Times L.A., the Los Angeles Times, Art Connoisseur, and SOMA magazine. He lives in Burbank and dreams constantly of female flesh.