Bikini Beach Party, Poorman's Style
Adolescent antics are making a splash in SoCal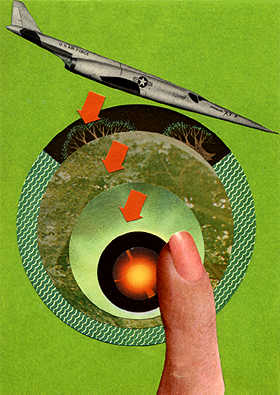 With braces on her teeth, barrettes in her hair, and sin in her heart, Bonnie Lewis, known as "Bondage Bonnie" to her drooling fans, looks like she might be just 17, even though she has the knowing, decadent smile of a 21-year-old, and a drivers license to prove her age.
"They call me 'Bondage Bonnie' 'cause I like to get rough," says the Newport Beach-Lolita while on break from shooting the TV show Poorman's Bikini Beach along with about a dozen other scantily-clad recent high school grads. She's aware the Barely Legal-look works for her, and she uses it to the hilt on the locally-produced, reality-based program, broadcast throughout Southern California on KRCA/UHF 62, Monday through Friday, 6 to 6:30 p.m.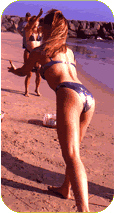 "I'm a year-and-a-half behind on getting my braces off, but I'm in no hurry," the little brown-haired bombshell explains as she snaps the elastic on the bottom half of her tiger-print two-piece. "I do well with them, if you know what I mean. I've never nicked anyone." A wet, red tongue runs over her steel-bound incisors, driving home the point.
Bonnie wiggles her other assets as she runs off towards the surf to participate in one of the many "Bikini Sports" planned for the day. Soon her mouth-watering brown skin, cupcake breasts, and round buttocks will be covered in chocolate from the "Sponge Toss," an activity where six girls line up in rows of three and toss sponges soaked in large buckets of Hershey's syrup. By the end of the competition, all of the girls are coated in the sweet, black sauce. A few of them lick it off of each other before jumping into the ocean. The crowd of horny guys watching goes wild.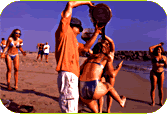 Welcome to another day of filming outside the beachfront "Poorpalace" of Jim Trenton, a.k.a. "The Poorman," formerly of SoCal radio powerhouse KROQ-FM. Before his new TV show hit the air eight weeks ago, Trenton was mainly known as the guy who supposedly developed Loveline (now an MTV mega-hit) and even hired Dr. Drew, before Trenton's unconventional behavior got him booted off the air.

"For years I spent all my energy being bummed out about having my show stolen from me," says Trenton, wearing a goofy fishing hat, orange T-shirt and khaki Bermuda shorts that make him look like a bow-legged horn-dog. "But now I've got a brand new deal, and I'd just love to see them try to rip me off."
Trenton's got reason to crow. His half-hour of local hotties flashing cheesecake for the camera and engaging in sophomoric antics like Bikini Bowling, Bikini Wrestling, Bikini Rub-Offs (where the girls rub Hawaiian Tropic all over each others' bodies), Bikini Three-Legged Races (which inspire a different type of third leg), and Bikini Splits (where one bikini chick eats a self-made banana split off the other), has made his show a cult success. His ratings and his list of sponsors are growing, and he and his bikini babes are constantly recognized on the street. Also, his Web site recently got 20,000 page views in one day. Now all he has to worry about is summer's end, which is fast approaching.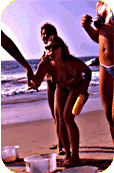 "There's about another month of good bikini weather left," says Trenton, watching his baby-faced sand-peaches frolic in the surf. "Then we plan to move the show to Cabo or Hawaii, anywhere it's warm. The next big step is national syndication, and we've already had some interest in that."
Poorman's Bikini Beach is Baywatch without the fake boobs, bad dialogue, or crappy plots. Like some unholy cross between MTV's The Real World and Ed Powers' Dirty Debutantes (minus the penetration), the production offers girls that are 100 percent real and enthusiastic about their on-camera performances. At the present time, Trenton's "Bikini Brigade" is unpaid, but these hometown honeys seem to thrive on the free stuff they get from sponsors and the attention they receive from guys.
After the shoot, Trenton and the girls relax back at his pad, eat ice cream, and check out the latest comments left by fans on their site's bulletin board. Among the messages is one for Bonnie from a viewer telling how he'd like to "bend her over." (Yeah, baby!) Another one, for Beverly Taylor, the exotic, full-figured "Bikini Queen" who co-hosts the show with Trenton, asks if she would squat on the gentleman's face and pinch a loaf.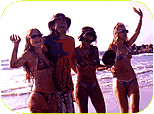 "At least it was an attempt to compliment," she says, crossing her arms over her gorgeous mounds of delicious flesh (tagged "The Beverly Hills" by the other girls). "To go to the extent of wanting to be my toilet. But even in my kinkiest and wildest moment, I never thought of shitting on anybody. Not even with a glass plate over them."
Trenton, the poorman's Hugh Hefner, leans back in his chair and laughs, "God, I love this show."
Stephen Lemons is a full-time writer and sex-fiend who contributes frequently to New Times L.A., the Los Angeles Times, Art Connoisseur, and SOMA magazine. He lives in Burbank and dreams constantly of female flesh.