Another Popular Videogame To Hit The Big Screen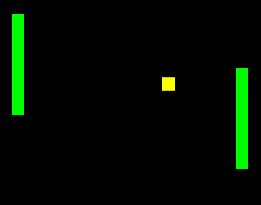 HOLLYWOOD -- Continuing the trend toward big-budget movie adaptations of videogames, which brought Street Fighter, Mortal Kombat, and Super Mario Brothers to the silver screen, New Line executives have announced plans for a movie based on the groundbreaking 1970s game Pong.
Of the film's $160 million budget, $80 million has been earmarked for a new "Deep Interactivity" process from Silicon Graphics, which will render stunning computer-generated models of the playing field in three dimensions. The film will star Tom Cruise and Minnie Driver as the ball and paddle respectively, with guest appearances by Samuel L. Jackson, Mel Gibson, Sean Connery, and Jack Nicholson. The film's characters will appear on cans of 7 Up, as well as promotional cups from Taco Bell.
Live-action sequences are currently being filmed on a $30 million soundstage in Tunisia. At a recent press conference announcing the movie, studio executives were tight-lipped on the plot. However, New Line spokesperson Lewis Donatello did reveal that one of the film's most expensive scenes will be the final face-off sequence when a tie score of 14-14 leads to a climactic confrontation. "High-speed collisions of the ball striking the paddles are being generated using fully-digital THX sound," Donatello gloated. "The fidelity will be very high."
Producer Jeffrey Leonardo reports that the four-hour movie will be the first in a series of film trilogies. After the premier of Pong: Episode One, New Line will produce Pong: The Series, a daily half-hour children's cartoon to air in 216 markets across the United States. Film treatments of New Line's other classic digital properties, including Asteroids, Space Invaders, and Breakout, are already in development. Whispered directors include Ron Howard and Quentin Tarantino.
Geri Halliwell and Celine Dion have already been tapped to perform a duet for Pong's soundtrack, titled simply Love Theme from Pong. The announcement by studio publicists culminated in the unveiling of a 20-foot reproduction of the promotional poster to appear in theatres starting in October, announcing the film's official promotional slogan:
"You'll laugh, you'll cry. Pong."
Is what I just read true?
Yes | No
David Cassel is Interactive Media Editor for GettingIt.