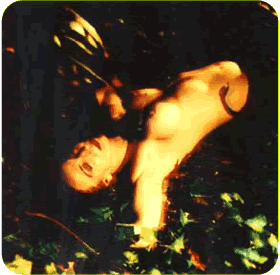 You are very skilled, sister
As beneath the girl you penetrate
And together you throb
She is raw inside from your nightly visits
As she straddles you
This and the rest of "The Eucharist" can be heard in this MP3 file.
A vocalist, musician, songwriter, and arranger with Swans for 13 years, Jarboe has released four solo albums, 19 albums with Swans and related projects, and numerous collaborative projects worldwide. Her 5th album, Disburden Disciple, slated for December '99, contains material recorded in Israel, and will carry a multimedia presentation and links to her Web site.
You can reach Jarboe at:
Jarboe@mindspring.com
Box 420232
Atlanta, GA 30342