Clinton Scraps Library, Plans Presidential IHOP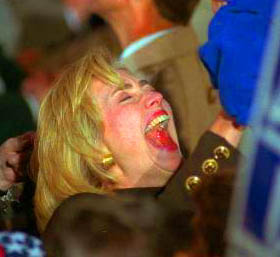 LITTLE ROCK, Ark. -- President Bill Clinton announced today an immediate halt in planning for his presidential library and unveiled a new vision of his legacy:  the Clinton Presidential International House of Pancakes.
"The American people have earned the opportunity to examine the documents of this administration while enjoying a delicious breakfast at any time of the day," Clinton said to reporters assembled in front of the Arkansas State House.
"Let this, then, be a truly international house of pancakes," Clinton added, "a place where the citizens of this great nation provide visitors from around the world with a variety of pancake choices, from the classic Silver Dollar Pancakes to the uniquely American Rooty-Tooty-Fresh-and-Fruity."
Little Rock resident Sharon Chilmark says she welcomes the idea of a memorial breakfast restaurant in her city.  "Finally, the words 'Clinton' and 'sausage' will have a positive connotation."
Michael Genrich is a Boston-based writer and compu-chimp.  He accepts full responsibility for The Daily Instigator.