Dole Porn Flick Hits The Net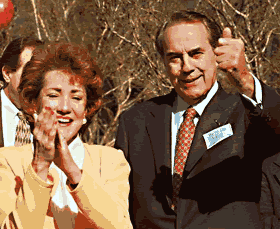 WASHINGTON -- The latest camcorder sex tape circulating on the Internet features former presidential candidate Bob Dole and his wife, 2000 presidential hopeful Elizabeth, demonstrating Mr. Dole's newly-discovered dong power.
The film, titled, Very, Very Viagra, is getting an enthusiastic response from the Internet crowd.
"It's just so real," said a newsgroup posting by Scott Ridding of Dayton, Ohio. "I'm sick of silicon. And I love the farm scene!"
One scene depicts the Doles copulating in a cornfield, Mrs. Dole holding a pitchfork and wearing a frock, and ordering Mr. Dole to "Squeal like a pig."
Mr. Dole seemed comfortable with the release of the video. "Ever since I started taking Viagra, my E.D. [Erectile Dysfunction] has been a thing of the past. Why shouldn't I celebrate that?"
Perhaps worried that the video might hurt her chances in the coming presidential elections, Mrs. Dole was less than enthusiastic. Some pundits, though, don't think Mrs. Dole should worry.
"Did you see how she man-handled Bob?" said Chris Matthews on the CNBC talk show, Hardball. "She's portrayed as a strong woman who is definitely in control, an image very crucial to the success of any presidential campaign."
Is what I just read true?
Yes | No
Eric Umansky is the former editor of The MoJo Wire. Before attending the "doormat of the Ivies," he lived a quiet, divorced-child existence in Brentwood, California.