The Ins & Outs Of Asian Brothels
Tips for the traveling john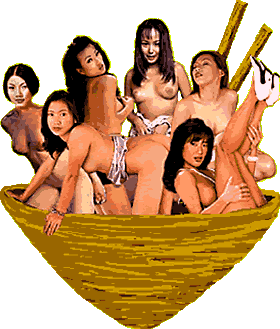 I'm a Silicon Valley engineer; the high-tech corporation I work for frequently sends me to Asia to explain our products to potential investors. I'm always pumped-up to travel to the Orient because it keeps me in touch with my favorite hobby: Brothel-Boinking. Below I've listed five cities I've pawed through, with in-and-out tips for males like me who hunger to sample the exquisite delicacies of the East.
Tokyo: Not the cheapest or the friendliest place to get laid because they really don't like "gaijin" (foreigners). A hooker costs $200 minimum here for "full service" but I do it anyway, because I'm rich enough to pamper myself with "cultural experiences." The Kabuki-cho entertainment area is where the action is: strip joints, sex shops, movie theaters, even "live sex acts" onstage. My advice is to wander around looking curious; eventually a bow-tied barker will wave you in with his "c'mon in, blow job!" pitch. They'll sell you a Kirin beer inside for $10 and the manager will show you a bulletin board with photos of all the girls' faces. The woman I chose was perfect: a 19-year-old giggler. I got exactly 40 minutes, no more no less, and she refused to take my $30 tip. She was so affectionate, she walked me out the door and told me that she loved me.
Seoul, Korea: Korean women are the most beautiful babes in the world -- eight out of ten are head-turners. Another plus is they don't use condoms. My advice is to go where the Korean guys go -- say "annyong haseyo" (hello) to everyone, and eventually a nice-looking woman will invite you in for a traditional "half-half" session (half oral, half intercourse). It's about $70 for 30 minutes. The women wear too much makeup, but many have boob jobs and they've got great full butts, much nicer than the waifish Japanese. I fell in love with a 21-year-old here; I saw her three times!
Pattaya, Thailand: Located three hours by bus from Bangkok, Pattaya translates as "PussyLand." It's a great 24-hour party zone, except for all the fat, drunk Germans on sex tours. Pattaya has Internet cafes, beaches, bars, and GoGo clubs with hundreds of nude dancing women. If you see a girl you like you can take her upstairs for $40 -- that's the "half-half" price for 30 minutes. You can also purchase "shower-mates" who will go to your room and scrub your back for $12. You have to wear condoms and Thais aren't as beautiful as Koreans, but who is? Warning: watch out for the very pretty "ladyboys" (transsexuals and transvestites) -- check everybody first, if you don't like surprises.
Jakarta, Indonesia: In a rough part of town there's a country-western bar called "Today's Country" that's got music, delicious Bintang beer, a stage show, and maybe a dozen women. Most of the clients are Japanese, but I walk in like I'm Daddy Warbucks. There's a "mama-san" (madam) here who speaks English; she brought the girls over one at a time until I chose a small, slender, pale, beautiful 18-year-old Central Javanese girl. We went next door to a motel and the "full service" price was only $5! I paid an extra $5 to do it doggiestyle, and she tongued my asshole, for free. I yelled, "You're so beautiful! I can't believe you're doing that!" because I was so happy.
Singapore: You get three choices here: Chinese women for $125-$150, Thai girls (who are more beautiful here than in Thailand) for $50, and Indian women in the lower end of town for $10-$20. I usually hire Thai girls in "Geyland," a four-block area of brothels. But sometimes I splurge and go to the "Healthcenters" -- these are spas with Tiger beer, steam rooms, and beautiful 19/20-year-old Malay-Chinese women, who will give you a tongue bath (all-over licking) with your "full service." Chinese women are my favorite Asians; they're not as beautiful as Korean women but they're stronger, with very interesting personalities.
My brothel hobby might sound exploitative to readers, but I always tip generously, I express my gratitude kindly, and I treat the women with respect. I like to laugh, too; it's important that we both have fun!
Gil Bates is the pseudonym of this Cupertino millionaire. He drives a Jaguar.