Amazon.com Acquires Mahogany Credenza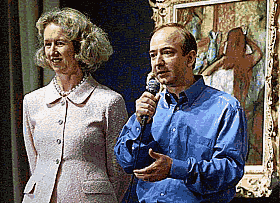 SEATTLE -- Online retailer Amazon.com has moved into the big leagues with the acquisition Thursday of a mahogany credenza for its CEO's office.
The credenza, valued at $1,400, will allow Amazon founder and CEO Jeff Bezos, who already has a desk, to have objects situated both in front of and behind him.
"When we were just getting started, I bought some doors, table legs, and hardware to make desks," said Bezos. "I even built the first few myself. The closest thing we had to a credenza was a stack of empty boxes."
Times have certainly changed. Bezos may be in a cut-rate office chair, but he's also sitting on a market cap greater than the gross national product of Chile.
Although rumors about the credenza purchase flew, all details have been kept under wraps. Did Amazon buy the credenza on the rival site of auctioneer eBay?
"I'm not going to discuss the specifics of the deal," Bezos said. "Let's just keep on checking out this great credenza I got."
"Look at this baby," Bezos said, caressing the deep brown wood. "Maybe I'll put a few books on her, to remind me of the good old days."
Nick Montfort is a freelance writer living in Manhattan. He's been writing for online publications for 2,100 Web-years.