Bisexual Barbie
Because Ken is simply inadequate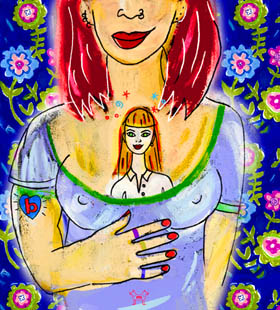 College had come and gone, bringing me nothing but a good waitressing resume and the erupting promise of varicose veins. I had passed through my fair share of lovers; my volleyball coach, my best friend's sister, and a couple of girls too drunk to find their way out of the bar. After living like that for the past few years, I felt as if I could use a vacation. I went back home.
The first night, I lay in my bed and thought about Barbie. I knew she was right above me, in the attic, nestled in her pink plastic coffin between twenty or thirty mix-and-match outfits. I wasn't one of those girls who grew up and blamed Barbie for all of their problems. In fact, I was rather turned on by that silky blond hair and wide-eyed innocence. I will admit I knew Barbie was a bitch, the type of girl who would probably break my heart, use me for her one lesbian fling, trying out the other side of the fence with an unsuspecting dyke like me, and then leave me for some pretty boy, a latent gay eunuch named Ken who would never be able to give it to her the way I could. He would never want to spank that perfectly round ass of hers or pull on that long, blond hair. So maybe he would buy her that dream house and the pink corvette she always wanted, but I was sure he wouldn't know how to fist her until she screamed to be fucked like the little plastic tramp that she was.
Of course, there was the issue of Barbie being frigid; the stiff plastic, the unbendable knee, legs that only opened one-quarter of an inch. She was just like any other girl I knew when I was ten: underneath that baby-faced demeanor of goodness, a raging slut was just waiting to get out.
The familiar ache was back in my cunt and I started playing with myself. I closed my eyes and began my fantasy. It only took me a few minutes to piss myself off. I was a big girl now. If I wanted to invite Barbie into my bedroom to do dirty things to me then so be it. And if my parents found out that I was a lesbian then that was okay, too. I went up and retrieved my princess, gently carrying down her suitcase and laying it on my bed.
There she was, already strapped down, wearing an innocent tennis outfit, white, with matching racket. I undressed her carefully. She seemed so small; she wasn't the larger-than-life tease I remembered from my youth. I took off my own clothes, watching her to see if that plastic head could blush.
I ran my fingers lightly over her arched foot. Well, it was more of the straight-up angle than any sort of arch, but I remembered those countless tiny pairs of shoes that always popped off. I thought my doll might have a foot fetish. I thought about foreplay. Then I decided Barbie might like to be treated like more of a slut -- that she would enjoy a raw, hard fuck. I brought her down to my clit and started using her like the little whore that she was, making circles with those tiny toes until my own nub was so hard I thought it might burst.
The feet slid in of their own accord. Before I knew it, Barbie's unbendable legs had disappeared up my hungry crotch. I pulled her hair, imagining how bad it hurt. I pushed down on her head, forcing her to give me pleasure. Oh Barbie, you bitch, fuck me like you want to. I arched my back and lifted my hips, offering all of myself to her. Her hard plastic was heating up as I rammed her into myself over and over.
I thought I heard a muffled cry but then I realized it was me who was moaning. I continued my frenzied pursuit of an orgasm-without-batteries. I was sliding my ass back and forth on the bedspread, pushing her up and down inside of me. I bit my lip to keep from yelling, but Barbie was good. She was bringing me to my 31st official lesbian orgasm. Her silky blond hair was soaking wet as I lost it. I came all over her long tan legs, her petite waist, her perfect C cup tits.
I lay back, shaking while Barbie rested patiently inside of me. There was no quick pull out and roll over. Barbie was a lady all the way. But me, I was a bitch. I rolled over and threw her on the floor without so much as wiping her off with an old, dirty athletic sock. I wasn't worried. She looked blissful, blue eyes wide open and her smooth, flawless skin glistening with my cum.
Cara Bruce is a Senior Editor at GettingIt and editor of the ezine Venus or Vixen?