Hillary Leaves White House, Cites Feng Shui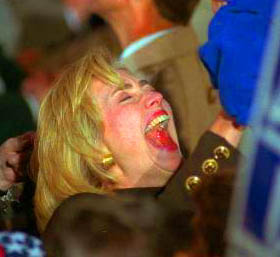 WASHINGTON -- First lady Hillary Rodham Clinton abruptly moved out of the White House this morning, saying the building's layout is "totally inappropriate" for her Feng Shui.
Aides say the first lady took the "What's Your Shui?" quiz, in a recent issue of Cosmopolitan, and was startled to discover that she ranked in the "Yikes, Really Bad Feng Shui!" category, scoring a measly 30 out of 100 points.
"Mrs. Clinton was born on October 26, 1947, which means in the Eight House Theory, her front door should be facing west," said an aide who took the same test, scoring slightly higher. "The White House door opens to the north, which indicates quarrels, frustrations, and legal disputes. With her upcoming bid for the U.S. Senate, Mrs. Clinton needs as much Chi as she can possibly get."
Further studies indicate that the Ba Gua of "family" is located in one of the executive toilets and "helpful friends" is in the small, windowless corridor behind the Oval Office.
Mrs. Clinton is said to be relocating to a light green Manhattan apartment, with the door facing west.
Steve Moramarco lives in a green house with the door facing south in New York City.