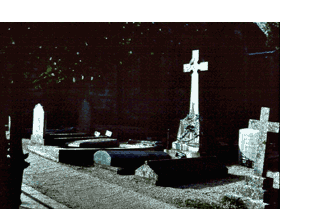 LOS ANGELES -- Fox has announced its newest cable channel, R.I.P.-TV, which will offer 24-hour coverage of funerals, memorials, eulogies, burials, and cremations, as well as hourly obituaries. The network's motto: "All death, all the time: mourning, noon and night."
"Ratings for the funerals of presidential scions, deceased royal figures and saintly social workers are invariably astounding," said R.I.P.-TV president and founder Kenneth Gothman. "People want to watch funerals, and that's what R.I.P.-TV will provide!"
When questioned further about the demographics of an audience for the mortality-focused cable channel, Gothman scoffed: "Too narrow a demographic? Too specialized an idea? That's what media pundits said about CNN, Court TV, and the Weather Channel."
But Gothman is quick to admit that pretty princesses, macho magazine men and noble Nobel nuns don't drop dead every week. Not to worry, he says. "Death is as plentiful as weather, maybe more so. The real question is, how will we fit all this first-rate mortality-related programming into the schedule?"
Gothman went on to offer a preview of the numerous programs the station intends to air in its fall lineup, including:
America's Funeral Home Videos
. Features home videotapes of ordinary funerals made by friends and family members of the deceased. A spin-off entitled "Bereavement Bloopers: Dying of Embarrassment" is already in development, promises Gothman. He refused to confirm or deny industry rumors that Whoopi Goldberg is being considered to host the bloopers program.
Star Death
. Robin Leach takes you to the world's most glamorous graveyards. Visit the final resting place of Karl Marx, Jim Morrison, and Beethoven, plus, of course, the legions of deceased movie stars pushing up daisies at Hollywood's Forest Lawn.
Laughed? I Could Have Died!
Occasional specials on weird, pithy, and funny epitaphs and monuments. Alternate name: Tombstone Territory.
Pop Go the Weepers.
This popular-music show will play everything from death-rock oldies such as "Bela Lugosi's Dead" and ghostly lovesongs like "Teen Angel" and "Tell Laura I Love Her" to, what else, Elton John performing "Candle In the Wind '97."
Farewell, Fido, Farewell, Fifi,
and Farewell Fido 2: Goodbye, Little Sheba. A series of specials on pet cemeteries.
You Look Marvelous in Black.
Elsa Klensch on fabulous funeral fashions for the living and the dead.
Martha Stewart at Death's Door.
How to choose the perfect floral arrangement for that deceased friend, and how to plan a memorable memorial for eight, twelve, or 100.
"Sure, some of this might lack the appeal of mega-celeb, gliterati funerals, but not everything on Court TV is the OJ trial, either," says Gothman. "There's an audience out there for mortality-based programming, and that audience will put R.I.P.-TV on top! Look at the Cable Clock Channel. Its ratings are in the toilet except on New Year's Eve and twice a year when nobody can remember whether they're supposed to spring forward or fall back. But death is a year-round proposition, and it's only right to capitalize on it."
Randy Alfred couldn't decide whether to write this idea as a parody or pitch it to venture capitalists.