Neptune & Surf
An excerpt from the Masquerade Books novel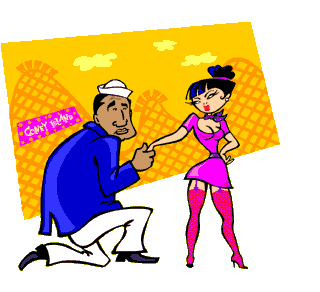 He yanked her blouse off her, all the way, and unhooked her bra. He wanted to examine her back, to see the marks of the others that had been there before him, but he couldn't find any traces. Her skin was beautiful. He didn't understand it. She was a whore, but she wasn't like any whore he'd ever seen, and some would say he'd seen too many, up close and sometimes with the lights on. She wasn't anything like those other whores, and Nat found it impossible to keep his mind off her. He thought about her night and day, wanting to fill up her tiny frame until she was bursting with his huge, aching hard-on. Finally he was doing it -- although he hadn't expected he would use her asshole; this time she didn't resist him, she didn't talk about money. "God," she cried urgently into the blankets when his cock was all the way in again and his full weight fell on top of her, pinning her down.
I'm going to crush her, he decided, when the thrusting rhythm took over his brain. Until she's paper thin, crumbling, like the gardenia corsage his mother had pressed between a book of days from 1933. Nat grunted from the effort of fucking her tight little hole. He drove into her hard and deep. She was motionless, completely impaled underneath his weight, but grunting like he was, as if maybe she liked it more with every stroke.
In the Carolinas somewhere, that's where his mother was. Ironing for white people, speaking politely. "Shit," he panted, his chest beginning to sweat against her back, his tightening balls slapping into the wetness seeping out of her other hole. God, his mother. Wearing pale yellow and flowers. I'm going to crush this whore.
"What's your name?" he demanded insistently as he came up her ass, jerked his sperm into her roughly, and made her cry out.
"Rosalie!" she surrendered from somewhere underneath his huge panting form. "It's Rosalie."
He'd been afraid of that, afraid she'd have a pretty name, and now he'd come in her ass. He felt terrible.
Marilyn Jaye Lewis' erotic short stories have been extensively anthologized. This is from her first book.