Do-It-Yourself Kink
Sexual deviance with everyday ingredients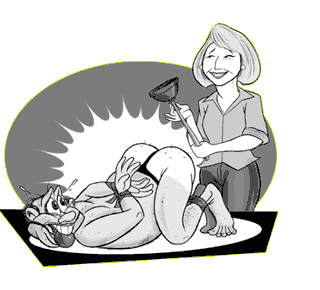 In the doldrums about your dungeon? Feeling frisky about flagellation? Have you been meaning to add some kick to your S/M toolbox but are just not sure how to start? Or, perhaps the penchant for perversity has taken a regrettable toll on your pocketbook?
Fear no more! There are a bevy of quick, easy ways to add a bit of zest to your deviant sex life using the handy items around your home. All you need is a Sunday afternoon and a little imagination; follow these simple steps and in no time you'll bring out the surly in your sadist or make your masochist more manageable. Why pay for costly fetish equipment, when your "alternative lifestyle" can be brimming to the top with do-it-yourself toys?
Tips, Tricks, and Ideas for Super "Adult Crafts"
A rubber ball left behind from your nephew's game of jacks can become the center of an effortlessly fun sex toy! Make sure it's clean, and then thread your largest embroidery-needle with 20" of brightly colored ribbon in a contrasting color -- cherry cerise, perhaps, or pond-leaf green? Mark the center of the ball with a painter's pencil and then thread the needle carefully through to the other side. Pull the ribbon through until it's evenly distributed on both sides, and then knot on either side of the ball. Just like that -- a ball-gag to silence the most chatty of bottoms!
Why pay high prices for fancy handcuffs when you can create just as secure a hold with the household staple of duct tape? Wrap a hand-towel around wrists or ankles before you tape away, and the sticky strips never need to touch the bare skin of the willing submissive. (Or, skip the cloth protectives to elicit a zingy sting when the adhesive is removed!)
Chopsticks can be more than just a fun and funky way to eat dinner with this little trick. One clean pair, plus two thick rubber bands from any desk drawer or morning newspaper creates an agreeable, blood-rushing sensitivity in any woman's busty area. Just lay the chopsticks horizontally across those mammary zones -- one above and one below -- clamp down on her fattiest tissue, and secure on either side with rubber bands. Tit clamps with zip, easy as apple pie!
Express your butch side and avoid those unsightly chafe marks from your strap-on harness. Leave the lesbian jockstrap at home and arrive for your date wearing a freshly pressed pair of button-fly Levi 501s. When your date's not looking, remove that sterilized, condom-wrapped silicone dildo from your leather jacket or handbag, and discreetly unbutton the middle two or three buttons of your pants. Your wearable weenie will pop right into the "fly area" like a cozy on a tea kettle. You can penetrate your partner, without the mess and hassle of removing your pants!
Do you have a friend who plays that crazy, newfangled "rock-and-roll music"? For keenly sharp nails without the fuss of a professional manicure, just pull on a few steel guitar picks. They pack a nifty scratch -- your partner's soft skin will be sure to know who's in charge.
Old bike tires are a snap to recycle -- you can make a flogger that will have the whole darn neighborhood yelping! All you need is a 1" dowel, rubber cement, and good, sturdy fabric scissors. Cut the tube into sections 12"-18" long plus the length of the handle -- our test-crafters have found that 9" is a good length for the average hand. Starting the length of the handle from the top, cut 1/2" wide strips the length of the tube. Take the dowel, cover the lengthwise sections with rubber cement, and glue the tube around the dowel. While your clever creation dries overnight, you may want to relax with an oatmeal face-mask or perhaps a cherry Coke. The next day, treat your new 12" whip with care. Be sure, however, to seek instruction from a friend or a trusted teacher before you try it out; this isn't a toy to test-drive without reading the instruction manual first!
So, guys and gals, that's all you need to venture forth on your sexually deviant lifestyle. Who would have thought it could be so easy? Just remember to play safe, respect both your partners and yourself, and never wear white after Labor Day.
D. R. is a San Francisco-based writer whose work has appeared in Salon, The San Francisco Chronicle, Sojourner, and on the occasional public bathroom wall. She also fights crime in the subway.