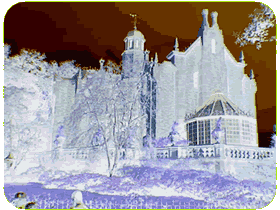 ORLANDO, Fla. -- Three student filmmakers disappeared while shooting a documentary here in October of 1994. A year later, their disturbing black and white footage was recovered, and is now being distributed by Artisan Entertainment as the highly-anticipated summer film, The Haunted Mansion Project.
The film documents the students' investigation into a legacy of horror that plagued an unincorporated town in Florida after a supernatural force took root several decades ago, luring townspeople to its site to extract money from them. Banished from most serious artistic circles, the force wreaked its revenge by seizing control of the village's children -- and this malignant power is still said to shroud the area. Local villagers believe that the site is still haunted by the ghosts of visitors tortured by memories of unusually long lines.
The 16mm film documents the filmmakers' final stay at the demon-possessed residence, built some time in the 1970s. The three teens entered a windowless, doorless room, which apparently lowered them into the structure's basement. ("They thought the room was stretching!" the film's promoters observed.) Subsequent entries report that they were haunted by a disembodied voice, sounding like Vincent Price, which said something about "no flash pictures."
The journal indicates that the teens were then confronted by dozens of apparitions, "some of which were singing." One of their last entries indicates they were carried past a series of terrifying spectacles -- a graveyard of pets, a door on which a spook appeared to be pounding, and a series of terrifying tombstones. ("Here Lies Good Old Fred/a great big rock fell on his head.") Their journal also includes a cryptic entry about a gift shop.
After a triumphant premier at the Sundance film festival, critics hailed the move as the "hands-over-your-eyes scariest movie of the year. Maybe of the decade!"
Local authorities were unresponsive to calls that they further investigate the incident, stating, "The kids apparently ignored warnings that they needed to be 'this high' to enter."
David Cassel is Interactive Media editor for GettingIt.