Anton Maiden: Geek Superstar
A boy and his software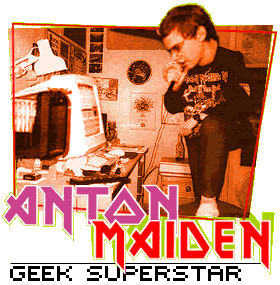 Sweden isn't necessarily the first place that comes to mind when Americans think about European cool. After all, it's the country that gave birth to the seventies schmalz-pop band ABBA, the group responsible for enshrining the defeat of Napoleon at Waterloo in a similarly-titled million-seller.
Nonetheless, Swedish rock is making something of a vengeful comeback right now, particularly when it comes to exporting punk rock and heavy metal back to America. Swedes are making fashionable rock and roll, and it's hip to be Swedish again. Sub Pop's recent Swedish acquisition The Hellacopters are being touted as the trendiest thing around by College Music Journal, while their countrymen Meshuggah (Hebrew for "crazy") have become one of the most popular metal bands to hit this side of the Atlantic since the heyday of Pantera. No foreign invasion, however, would be complete without the importation of a third sensation to Sweden's new imperialist rock and roll trinity: the conspicuously uncool 19-year-old computer programmer Anton Gustavsson.
A student by day, he's a dedicated headbanger by night who records under the alter-ego Anton Maiden. Anton got play on America's college radio stations early last summer with his self-titled debut CD, an unauthorized recording of eight Iron Maiden songs sung in Anton's inimitable karaoke style. The songs were recorded on his home computer using free MIDI files of classic Iron Maiden songs that he'd downloaded from one of Scandinavia's burgeoning MIDI-module metal Web sites, the Iron Maiden Sound Archive.
Inexplicably satisfied enough by the quality of his recordings to put them online, Anton uploaded them to his personal Web site as MP3s. All of a sudden he found himself one of the very first stars of the international DIY Internet music era. Anton was getting played on Swedish radio, and was in heavy rotation on well-regarded American underground radio stations such as New York's WFMU and Berkeley's KALX. In a recent post to an Iron Maiden discussion list on the Internet -- where he was getting flogged by bewildered Maiden fans for having had the chutzpah to butcher their favorite songs -- Gustavsson smugly boasted, "I'm famous in my own country."
What gives? The secret to Anton's success is that he presents the ultimate portrait of the awkward music fan: alone in his bedroom, un-self-consciously singing in a heavy Swedish accent his own cheesy renditions of notoriously melodramatic heavy metal anthems. For the moment, however, Anton is unavailable to the world. Perhaps due to legal action from Iron Maiden, or the wrath of "authors" of the Iron Maiden modules that he used to sing his hits -- Anton's covers received a lot of bad press in the Scandinavian mod-metal community because he appropriated their work -- Anton's celebrated MP3s are no longer available. However, Anton is rumored to have a record deal, so we may be hearing from him soon. Until then, Matt Kelly at Cool Beans magazine has made one official Anton song available on a compilation disc.
Once you hear Anton, you'll never think Sweden is a synonym for Ikea again.
Joel Schalit is an editor at Punk Planet and runs the punk collage label Kolazhnikov. He is also a member of the Bad Subjects production team.