Santarchy 1999!
Rebels with a Claus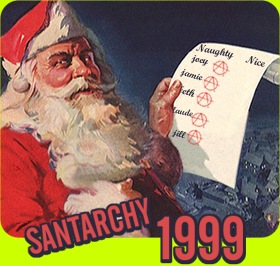 Everyone loves Santa. His white beard, his red suit, his whiskey flask, his little packages of pornographic presents. The jolly way he tips the exotic dancers with a dollar bill in his teeth. This isn't the image of Santa Claus that you remember? Well, try to imagine not just one incredibly strange Santa, but 75 of them in a huge mob, ho-ho-ho-ing their way across Manhattan in a daylong frenzy of binge-drinking and merrymaking. It's all part of the national event known as Santacon '99.
For the past five years, an oddball assortment of men and women have donned the traditional red-and-white Saint Nick suit and descended on an unsuspecting public in cities such as Seattle, Portland, San Francisco, and Los Angeles, creating a general nuisance and having a kick-ass time. Two years ago, the Brooklyn Cacophony Society (a chapter of the nationwide Cacophony Society) began hosting a Santacon in New York City.
This year, I wanted to check out the wild Santa action. I purchased my cheapo suit and met up with the rest of the folks at Katz's Delicatessen in the Lower East Side at 10:30 in the morning. Fourteen hours later, I was eight sheets to the wind, exhausted, and filthy. The hours in between were a blur of red and white, but here are some of the highlights:
10:30 a.m.: All the Santas converged at Katz's. At first it was only a handful of red suits, but by 11 the number had reached about 60. There were traditional Santas, sexy Santas, and there was even a pimp Santa with fur coat and platform shoes.
11:30 a.m.: Brooklyn Bridge. One Santa is nice. Two Santas together might prove a little odd. But when you have dozens of them chanting "HO HO HO" at the top of their lungs as they cross the Brooklyn Bridge into Manhattan, it's enough to (literally) stop traffic. People honked and waved as the Red Brigade made its way over the East River. A few Santas shared a joint in the remarkably warm (59-degree) weather. A young child looked on and cried.
12:30 p.m.: City Hall. Although Rudy Giuliani wasn't around, the Santarchists staged their own "protest" in the park. With signs and chants like "More Cookies and Milk," and "No More Reindeer Games," we let the public know where Santa stands on certain key issues.
1 p.m.: The Blarney Stone. This is where the day really started to get liquid. Pitcher after pitcher was ordered and the Santas sang special naughty Christmas Carols like "Deck My Balls."
2:30 p.m.: Subway to Times Square. The Santas crammed into a subway car, chanting "So HO" and "No HO" as we stopped in So Ho and No Ho respectively. Flasks passed from one white glove to another. The number of Santas had swelled to almost 100.
2:45 p.m.: Times Square. The Santas stumbled into the shopping mecca of the world and began shouting "Charge It! Charge It!" to a perplexed crowd.
4 p.m.: A few of us renegade Santas decided to break from the pack to go smoke some killer hydro bud at one of the Santarchist's apartments and meet up with the rest later.
4:30 p.m.: Rockefeller Center. The four rebel Santas decided to take a detour through the heart of the Christmas festivities. Carrying the "More Cookies and Milk" sign and shouting our lungs out, we made a spectacle big enough for four hundred Santas.
6 p.m.: Lower East Side Parade. The Santarchists teamed up with some real-live anarchists led by the Rev. Billy for this permitless parade of about 200 people. The power of the Santa was somewhat diminished in the larger crowd, and the Santas eventually split and headed for Coyote Ugly's Saloon, where the kind folks had arranged for 50-cent beers for all Santas!
9 p.m.: Eddie's Topless Bar ­ Thanks to Giuliani's "Quality of Life" campaign, this bar no longer lives up to its name, but, hey, it leaves a little more to the imagination, right? The lovely ladies soon discovered that Santa is a very good tipper.
11:30 p.m.: Upright Citizens' Brigade Theater. The UCB hosted what I think was the first all-Santa talent show. One sang Hannukah songs. One with a guitar led the group in a rousing version of "Cocaine," and a few Santas did a striptease act. By 1 a.m., Santacon '99 was finally over.
Okay, so you're probably wondering, "why would hundreds of people all over the country get dressed up as Santa and be loud and obnoxious?" Is it a statement about the mass-consumerism of Christmas? An attempt to disillusion young children? A way of letting off a little steam and going nuts while dressed as an icon that most people know and love? While each Santa may have his or her own reason for partaking in the festivities, I think it's safe to say that the whole thing boils down to good old-fashioned F-U-N. We'll see you at Santacon 2000!
Steve Moramarco believes in Santa Claus... hundreds and hundreds of them!