Bad To The Bone
Hollywood's baddest girls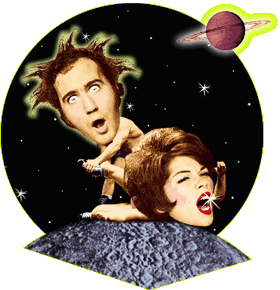 It's hard to tell a genuine bad girl in Hollywood, given that many budding actresses may strategically masquerade as Rose McGowan while secretly dreaming of being Jennifer Love Hewitt. Ultimately, the best way to gauge the soul of a bad girl is to ask: Could this actress, under any circumstances, become Meg Ryan? The following are three prominent bad girls who, at least for now, stand as far from Meg as John Travolta does from the concept of an attractive older male actor with a soul.
Suspect: Natasha Lyonne (birth name Braunstein -- but sadly, no relation)
Breakout film: Slums of Beverly Hills (1998), though some would say it was her role as Woody Allen's daughter in Everyone Says I Love You (1996).
If Lyonne were around in the days of 1950s j.d. films, she'd constantly play the tough prison dyke who the femmy new prisoner has to win over (usually by showering with her repeatedly) to plot a jail break. With her tough-girl voice and New York tomboy flair, the 20-year-old Lyonne comes off as a pint-sized Weinstein brother. "I'm sick of hearing 'You're too New York,'" she said in a recent interview. "What does that mean?" Like many budding bad girls, Lyonne's childhood was filled with trauma and perversity: At age 6 she played "Opal" on Pee-wee's Playhouse. After being typecast as a smartass in a string of movies, Lyonne hit pay-dirt with the indie smash Slums of Beverly Hills, where she played a big-breasted teen who learns how to use a vibrator and dates a guy obsessed with Charles Manson.
After Slums, Lyonne could have taken a shot at a romantic comedy, maybe done a guest cameo on Frasier, but instead she signed up for Freeway II: Confessions of a Trickbaby. In this second installment of writer-director Matthew Bright's gritty tribute to gleefully amoral teenage girl criminals, Lyonne plays White Girl, a butchy, bulimic troubled-teen who likes to pose as a hooker and rob her tricks. She hooks up with a Chicana serial killer who keeps hitting on Lyonne with lines like: "You look like Sporty Spice when you bend over." It's not enough to say that Freeway II isn't for the weak or faint-of-heart; it may not be for anybody, which is what makes it so devastatingly fascinating.
Next gig: There's no sign that Lyonne is getting soft. She's also appearing in But I'm a Cheerleader, a black comedy about a girl sent to a "rehab camp" when her parents suspect that she's a lesbian.
Suspect: Dominique Swain
Breakout film: Adrian Lyne's Lolita (1997)
Let's be honest, being a Lolita is not the best career springboard for an aspiring actress. A case-in-point is Sue Lyon, who played Lolita in Kubrick's 1962 version. She was famous for a minute, then the phones stopped ringing, some guy married her simply because he was into Nabokov, and she rounded out her career by blaming Kubrick for destroying it. For Dominique Swain, who played the legendary nymphette in Lyne's distribution-challenged 1997 remake, the future is looking somewhat brighter. She's set to star in Tart, a film about reckless teens in New York's underground club scene, and The Intern, a satire of the fashion industry.
Indeed, this Malibu native has everything that an aspiring bad girl might need -- kitschy notoriety, good looks, and cynicism. But ultimately Swain may be too bored to be truly bad. "My agent says I don't try very hard," she confessed at the Pecker premiere party last year. "If it's a part like Lolita, I would really go after it, but all these other auditions, I just think, I have to spend the whole day memorizing lines, and I might not even get it? It's such a waste of time."
Next gig: Tart is currently filming in New York City.
Suspect: Bijou Phillips
Breakout film: Hasn't had one yet
DNA determinists would say this daughter of the Mama and the Papas' rehab-magnet John Phillips was predestined for self-destruction, and so far she isn't proving anyone wrong. For the past four years, New York gossip columns have buzzed with news of Bijou's latest car chase, hotel room trashing, arrest, or random act of destruction. When she was 16, she punched a girl in the face at the club Spy, and chopped off the tip of a man's finger with a cigar cutter -- which she called "a magic trick." She recently confessed, "I feel like people around me want me to prove myself, but I don't feel like I need to prove myself. Nobody really cares."
Now Bijou, who claims to have "enough anger for the world," is channeling her rage in more creative directions -- well, at least it looks that way on paper. She recently released a debut album appropriately entitled I'd Rather Eat Glass -- a mixture of angst-rock and rage-rock, with a little mope-rock thrown in for kicks. She's also launched a film career, and will play a white hip-hopper in James Toback's Black and White, due out in March.
Next gig: Aside from Black and White, Bijou will also be starring alongside fellow bad girl Swain in Tart. Swain must envy Bijou -- since the film is about self-destructive youth in New York's club scene, Bijou won't need to memorize any lines for the role.
Peter Braunstein writes about film and pop culture for the Village Voice, and is currently co-editing an anthology on the 1960s counterculture.