Spaghetti With The Screw King
Lunch with Al Goldstein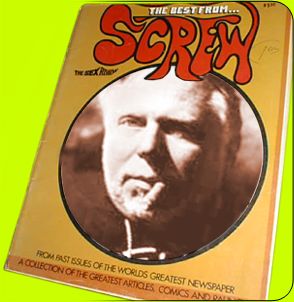 In case anyone wants to know, Al Goldstein, the jolly pornographer, is happy with his life. He's 63 and says that if he died tomorrow, it would be OK. He's had the best cigars, the best wine, the best pot, and the best women. Paid top dollar for all of it. That's what he said over lunch at the Old Spaghetti Factory on Sunset Boulevard.
It was a hot day in Hollywood and Al was wearing shorts, sneakers, and his trademark red T-shirt with the "S" logo usually identified with Superman, but with the address of his Web site printed over it: www.screwmag.com.
Al's luncheon turned out to be a smaller gathering than he had anticipated -- he had a guest list of 15 but only five of us showed up. We waited in the lobby of the cavernous and gaudy eatery dwarfed by 40-foot ceilings, walls entirely upholstered in crushed purple velvet, gilt gold fixtures, gigantic mirrors, and crystal chandeliers. It seemed the perfect location for our rendezvous.
"People are so rude," said Al after a half an hour, when we at last went into the dining room. He speculated that his other guests were probably attending the funeral of First Amendment rights lawyer Stanley Fleishman who had died the day before. All the porn industry loved Stanley for fighting for their rights.
"How come you didn't go to the funeral, Al?"
"I didn't want to."
So our party consisted of a guy named Nick who gets cigars for Al; Rosalyn, the woman Nick brought with him; political satirist Paul Krassner; me, the woman Paul brought with him; and porn superstar Ron Jeremy.
"I'll tell you something," Al enthused over hot garlic toast, "I love my life. I have a lot of enemies. I hold on to my rage and anger. I'd rather have ten enemies than one friend. You know where you stand with your enemies. Friends will always disappoint." Ron, Al's longtime friend, nodded in appreciation of Al's insight.
"Yeah, Al's a happy guy," Ron concluded.
"I don't know if you know this," Al said, beaming at his buddy, "but Ron has a huge cock. He's the only man I know who can give himself head."
"I've never done it to completion though," added Ron, setting the record straight.
Over spaghetti and meat sauce, the conversation turned to current events. Everyone was astounded at the changes in the industry over recent months.
"If someone would have told me a year ago that big porn stars would be working at the Bunny Ranch in Nevada giving blow jobs to any guy with the money to pay, I would have said you were crazy," said Ron. "That seems to be the biggest change in the industry in recent history." He was talking about the full-page ad in Screw this week for the Moonlight Bunny Ranch in Carson City, Nevada. The ad shows photos of about 30 famous porn stars, with text reading things like, "Candy Hill will be at the Bunny Ranch between September 27-Oct 5 (34D-22-32), who starred in over 100 films including Seymore Butts, Hot Bods, and Tail Pipe I and II."
"They're not being exploited, either," reasoned Al. "They make three or four thousand dollars a week."
Over banana splits Al waxed poetic about his rebellious son who doesn't do drugs or cigars or women, graduated from Georgetown University first in his class, and is now attending Harvard law school.
"One of my proudest moments was last year when I was given the Lifetime Achievement Award by the adult video industry. My son came with me to Vegas to accept it. He gave me a hug and said 'I'm proud of you, dad.'" Al's sparkling blue eyes misted over.
Over coffee, Al gave his attention to Nick's friend Rosalyn. "You seem nice and pretty too and I'd love to taste you." She held his gaze bravely. "How about if I eat your pussy this afternoon? Would that be a problem?" Rosalyn laughed politely. "How long since you've had an orgasm?" She kept her cool. "I know I'm an old fat man but all you'll see is the top of my head. How can we arrange it?"
"Have you paid for lunch yet Al?" asked Nick.
"Yes, it's all taken care of," Al replied.
"In that case we're going nowhere with you," Nick said, laughing. "No place."
By this time it was close to three o'clock and Al had to get going in order to have time to take a short nap and wash his balls before his next meal, scheduled for 6 p.m. over on Melrose. As we stood to leave he addressed me.
"Are you always this quiet?"
"No, not usually."
"Sure doll," he nodded. "I can see you're a woman who knows her place," Al said.
It was a joke. I smiled but I kept my mouth shut.
Nancy Cain is an award-winning independent video journalist, a freelance writer published in L.A. Weekly, L.A. Reader, and The Realist, a student of vegetarian cooking, an aspiring novelist, and an avid reader of GettingIt. She lives in Venice Beach with her husband Paul Krassner.