Dirty Laundry
Brit Artists Tracey Emin and Billy Childish go very public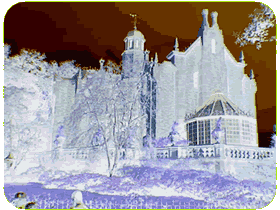 As the British art establishment gears up to award its most prestigious prize for contemporary art, a heavyweight war of words has broken out between its favored court jester (Tracey Emin) and a cult musician with terrible teeth (Billy Childish). And, just to make it a little more exciting, the two are former lovers.
In the blue corner is Tracey Emin, a woman who has turned her whole life -- teenage rape, botched abortion, drunkenness, depression, and all -- into art, and is now the leading contender for Britain's biggest art award, the Turner Prize (to be awarded November 30).
In the red corner is the challenger: painter, poet, singer, and garage-punk guru, Billy Childish. Childish has been described as "a seething, dyslexic, better looking, British Bukowski," and has been turned down by or thrown out of most of London's best art colleges.
The long-dead relationship between the two, spread over six years in the '80s, was first dredged up when Emin exhibited Everyone I Have Ever Slept With 1963-1995: This big hit at the Sensation show is a small tent with the names of 32 years of bedtime companions embroidered on the inside, and "Billy Childish" is the biggest. Though the relationship bore no offspring, the couple did share a bout of gonorrhea and herpes that Childish picked up from a German prostitute.
Since then Emin -- who abandoned painting in 1991 to become a more fashionable conceptual artist -- has been grabbing the headlines in the UK with My Bed. The exhibit, which is on display at the Tate Gallery but was first seen in her solo exhibition at Lehmann Maupin in New York, is a disheveled, dirty bed surrounded by the detritus of a four-day drinking binge, and includes vodka bottles, condoms, and a pair of once-white panties stained with her menstrual blood. For the sake of both art and alcohol, Emin has also decided to show off her "great tits," appearing topless on the labels of a limited edition of bottles of Beck's beer.
The Turner prize is no stranger to controversial artists -- past winners have included the formaldehyde-wielding Damien Hirst and Rudy Giuliani's least favorite muck-spreader, Chris Ofili -- but if she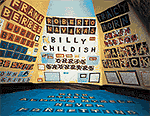 does win the £20,000 ($33,000) prize, Emin certainly shouldn't be caught out. She put in some practice for her celebrations two years ago, appearing drunk and ranting on a television chat show about that year's award. She left the set halfway into the show, tearing off her microphone and slurring something about going off to call her mum.
Perhaps if she does win, this time she'll make the call to Billy Childish -- just to say "thanks." After all, back in the day, Emin was a satellite to a group of artists called the Medway Poets, and Childish was their leading light.
For a long time, Childish has been a bit of a cult himself with his groups Thee Milkshakes, Thee Mighty Caesars, and Thee Headcoats. He can count the likes of Beck, Nirvana, and even Pearl Jam's Eddie Vedder amongst his fans. In addition to his eighty-plus full length recordings, he has produced two novels and over thirty collections of his distinctive dyslexic poetry -- much of it drawing on his formative experiences of "sexual abuse, mental abuse, rotten schools and bullying."
More recently, with Emin getting all the attention, Childish had been relegated to the role of Tracey's ex, until fellow painter and Medway Poet Charles Thomson had the idea of exploiting Emin's new-found fame by cooking up a new art movement: Stuckism. The name came straight from Emin's own mouth. During one particularly grievous row with Childish, she shouted: "Your paintings are stuck, you are stuck! Stuck! Stuck! Stuck!"
Stuckism is highly critical of Brit Artart, sticking up for painting and amateur art against the art school conceptualist star system, and Emin has not taken the Stuckist movement in good humor. ("She told me it was immature," says Childish. "That was a bit rich, weren't it?") One of Thomson's paintings even lampoons the famous tent, and he believes that much of her work is highly derivative of what Childish and others were doing in the early '80s. "She got all the ideas that she's now using from the ideas that people had evolved at that time," Thomson says.
Childish, too, has started to exploit existing references to Emin in his work. His latest poetry collection, i'd rather you lied, is named after a poem about Emin; the cover features a picture of them in bed in nothing but their underwear, while Emin also crops up in 17% Hendrix was not the only musician -- a collection of Childish's music, poetry, and art. The final page reproduces the visitor's book from his recent show of Stuckist paintings that reads: "Tracey Emin mentioned you on a tent. Happy camping. You are useless."
Childish isn't the only one taking his lumps from the public. One (completely unrelated) couple, calling themselves the anti-Stuckists, recently threw away their clothes and joined the tradition of art-prankery at the Tate by diving between My Bed's stinky sheets.
Perhaps that's the reason why, just before the announcement of the Turner, Emin has taken a sudden and uncharacteristic vow of silence. Which means, for the time being, that the last word belongs to the boy she left behind:
"I think eventually she'll have to return to a more formal sort of art form," Childish says. "People require someone to be engaged in process. You can't just present people with cleverness all the time, especially when it's not really clever at all."
Iain Aitch lives in London and visits his dentist regularly thank you very much. He put his money down on Emin when the odds were still good.