Wile E. Coyote
Lessons learned from the cultural icon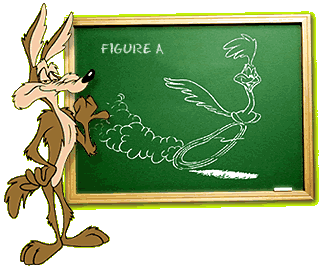 Everyone remembers it. In an unforgiving corner of the Southwest, a coyote speeds across vast anonymous wastelands of goth austerity -- and perforates the TV-generation's hodgepodge of philosophy.
What have today's angsty youngsters learned from these legends of a resourceful and unrelenting foe, always foiled by cartoon zen? Is it a philosophical touchstone about modern society's failure to provide true fulfillment? It's clear that mixed in with lessons about the failure to attain sufficient landspeed are broader nuclear-era themes like "the primitive versus the technological." Consumed by generations of children, these stories have become a national folktale, a re-affirming parable of determination and persistence -- and their folly.
But without words, the lessons are in the eye of the beholder -- to be re-discovered anew by each subsequent generation. Below are the ten most important things we've learned from the scavenging coyote's pursuit of the ever-elusive Road Runner.
Technology is doomed to fail.
Consumerism leads to catastrophic accidents.
Upon contact, glue hardens instantly into an unbreakable adhesive.
The laws of physics will change spontaneously to thwart your ambitions.
Nothing can kill you.
It's possible to lick your entire head with your tongue.
Extension cords work in the desert, but they're never long enough.
If you're really fast, you can disappear into a painting.
Latin is stupid.
Asphalt periodically lifts off roadbeds when crossed by very fast birds.
The swift are invulnerable.
David Cassel wrote this while running around the office saying "meep meep." We stopped him with an anvil.