Horny In Alabama
Fighting for the right to masturbate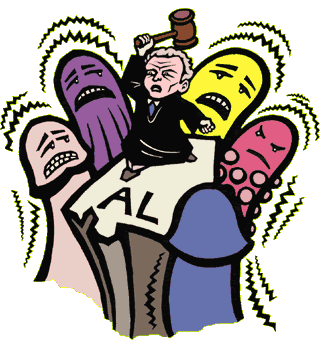 Two prominent sex toy vendors in Alabama will tell you that several of their female clients buy products because they have an extremely tough time climaxing solely through intercourse -- some are even anorgasmic. Oftentimes, a vibrator is the only solution, making the difference between a big 'O' or a fat zero. But if the Alabama attorney general gets his way, a ban on the vending of gadgets designed to stimulate genital organs will be reinstated, forcing women to buy their mechanical lovers outside Alabama and smuggle them back across state lines.
The ban first came into effect on July 1, 1998, not exactly the sexual dark ages. Sherri Williams, owner of sex-toy company Pleasures, said, "It was so absurd someone had to fight it. I immediately started searching for a lawyer, and let me tell you that was quite a challenge, cuz hon, it's the Bible Belt."
Attorney Michael Fees agreed to take the case and promptly contacted the American Civil Liberties Union in New York City, requesting their help. Within a month a legal team was formed consisting of attorneys Michael Fees, Amy Herring, and ACLU's Mark Lopez, and a lawsuit was lodged against Alabama Attorney General Bill Pryor. Joining the proceeding were five other women, including Saucy Lady operator B.J. Bailey, who conducts in-home retail sales (kind of like "Tupperware" parties with batteries), and four consumers who would testify that they need sex toys to achieve orgasm.
What's ironic is that the stipulation was added to the law purely by accident, and once it was passed several of the legislators were quoted as saying they had no idea how the ban had poked its head into being.
"We had a state legislator, Tom Butler, who was offended by the nude dancing proliferating in our rural areas, so he went to District Attorney Tim Morgan, asking him to draft legislation to shut down strip clubs. Apparently, Morgan's office Xeroxed the 'comprehensive obscenity law' from an adjoining state, and handed it to Butler, who apparently assumed -- I guess without reading -- that the focus of the law was to shut down nude dancing."
In fact it covered quite a few other issues, including the criminalization of sales and distribution of sex toys, says Fees. The punishment for breaking the law: one year in the slammer and a stout fine of $10,000.
Roughly a year later, federal trial court Judge Lynwood Smith ruled the law unenforceable. However, he did not acknowledge the plaintiff's initial complaint, which was that the law violated their constitutional right to privacy. They won on the basis that there was no rational relationship between the law and the legitimate state interest. Now Pryor, who is defending the state in this case, has filed an appeal to the United States 11th Circuit Court of Appeals in Atlanta, Georgia.
"Basically what it boils down to is that they don't like getting their hands smacked, they don't like the judge telling the legislators what laws they can or can't pass," says Williams.
The plaintiffs' reply is due sometime in November and then the attorney general will be given an opportunity to file one last brief. Meanwhile, the women have requested the chance to travel to Atlanta to argue their position in person. If the judge does reverse the ruling Fees says they will try to take the case to the United States Supreme Court. Incidentally, the case has already cost the ACLU and plaintiffs' lawyers almost $100,000.
"To tell you the truth, it's really unclear whether we'll win or not because the courts are very reluctant to recognize new constitutional rights," says ACLU's Mark Lopez. "To call this a vibrator case kind of trivializes things. It's really about the government telling people what they can do in their bedrooms. If we get a good panel who sees it that way we should win, but if they think of it as big dildos then it's going to be a problem."
Alabama may be situated in an extremely conservative part of the country but it's still a sexual one. Fees points out that, "these products are being sold in incredible quantities."
In 1998, Williams, who describes her stores as lavish upscale romance boutiques, sold more than 36,000 items, generating $650,000 in gross revenue. The 35-year-old says that the atmosphere lends a lot of dignity to shopping. "I don't massively stock boxes with nude pictures or have neon lighting -- my stores aren't a sticky-floor kind of a place."
In 1998, Bailey conducted roughly 610 parties and sold approximately $100,000 worth of sexual paraphernalia. "I've dedicated my life to helping women have pleasure because for so long the men have been in charge of sex ... I think the men who put this law in place don't understand the importance of women having pleasure," says Bailey, a devout believer of M&M -- meditating and masturbating.
Meanwhile, this past summer during a festival in San Francisco, Williams was inducted into the Masturbation Hall of Fame, sponsored by Good Vibrations, a San Francisco-based sex-toy store. And the scandal has prompted a movie, dubbed Can't Buy me Love, and a documentary -- The Solo Act -- currently in the works.
See also: Diddling Doctors
Maryam Henein contributes to publications including Black Book, Los Angeles Magazine, and Detour. Check out her story on the tribulations of Dodi Fayed's imposter in the January edition of Gallery Magazine. Incidentally, she trashed her G-2 -- a gift from her ex-beau -- for her new man Antonio.