Oscar Sabotage
Predicting potential subversion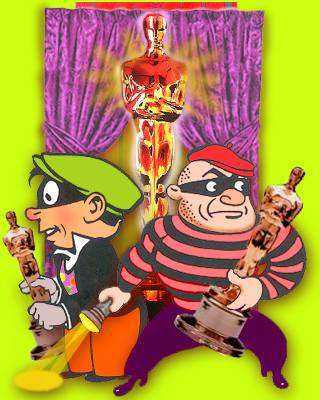 In the dog race that is the Hollywood film release schedule, the next two months are all about throwing bones to Oscar. Studios, rightly assuming we've forgotten everything that's come out so far this year (except, maybe, The Matrix), have saved the best fare for last. We can leave the pedestrian, proactive habit of speculating about who'll win Oscars to the venal, celeb-worshipping rags. Instead, let's look at the more interesting issue: who'll screw up their co-stars' chances of walking off with a little golden man.
Two films opening next month stand out in terms of Oscar sabotage potential. The first is Girl, Interrupted, which Winona Ryder is hoping to ride straight to the Oscar podium. Set in the 1960s, the film is based on Susanna Kaysen's 1993 memoir about her 18 months spent in a mental hospital after attempting suicide, and probes the question of "insanity." Essentially, it's One Flew Over the Cuckoo's Nest, but with babes and without an empathetic Indian. It boasts a heavyweight cast including Whoopi Goldberg, Vanessa Redgrave, and the always-turbulent Angelina Jolie as one of Winona's fellow inmates.
Winona has been painting the town with the kind of PR to be expected from an actress hoping to translate her performance into Oscar gold. In numerous interviews, she's stressed how much she "lived" the role, dwelling on the similarities between the anguished character in Girl and her own life as a teen Hollywood star.
Evidently, when she was 20, Ryder awoke one morning and decided that she was "too sensitive to be living in the world." Rather than popping a Percodan or Valium like any normal Beverly Hills denizen, she decided to check herself into a mental hospital. "I stayed only a week," she recalled, "because no one was talking to me." Wow, what a painful odyssey. It's sort of like playing a serial killer on screen and telling reporters, "I never killed anyone in real life, but I once shoved a guy who tried to cut in front of me at the Wal-Mart."
But the edifice of Oscar hype Ryder is building might be endangered by, of all things, her co-star Angelina Jolie. Evidently, Jolie was cast as a sort of anti-Winona Ryder, counterbalancing Ryder's trademark fragility and angst with a no-holds-barred performance as an uninhibited sociopath. Jolie's license to chew scenery may, however, overshadow Ryder's more subdued performance and leave audiences buzzing about Jolie instead. If Ryder is snubbed for Best Actress next year while Jolie takes away Best Supporting Actress, Winona may be checking into a mental hospital again -- but staying longer this time around.
The next minefield of Oscar upsets is The Talented Mr. Ripley, a 1950s period film about a social misfit who is sent to Italy to find a rich playboy, but ends up killing him and assuming his identity instead. Basically a remake of the 1960 René Clément film Plein Soleil (Purple Noon), Ripley is total Oscar bait: directed as it is by Oscar winner Anthony Minghella (The English Patient), and starring Oscar winners Matt Damon (as the above-mentioned gay sociopath) and Gwyneth Paltrow, as well as Jude Law as playboy Dickie Greenleaf.
Now, we can rule out Paltrow as a serious Oscar contender, partly because people are still trying to recover from her acceptance speech last year (where she thanked her "mommy" along with 73 other people), and partly because nabbing Best Supporting Actress right after winning Best Actress would actually be a step down. But here's the twist: Damon (who is, by the way, Winona Ryder's off-screen beau) is breaking new ground by playing a homosexual psychopath, but he may still find his performance eclipsed by on-screen rival Jude Law.
Law, you see, is just one of those magnetic actors who, like a subliminal advertising campaign, leaves an indelible mark in audiences' minds. Law outshone nominal star Ethan Hawke in Gattaca, and the same thing could happen again with Ripley -- given that Matt Damon, like Ethan Hawke, seems to be one of those actors who is screen-presence challenged: Put him in a room with an exciting plant or a shiny tiled floor, and the inanimate object steals the show.
As a result, critics could leave Ripley raving about Jude Law's performance (and maybe giving him a Best Supporting Actor nod); gushing about Gwynnie's hair, clothing, and eyeliner; marveling at the beautifully-filmed European locales, and then pausing to mention in passing that Matt Damon wasn't bad either. It's the kind of afterthought buzz that just doesn't say "Oscar."
Peter Braunstein writes about film and pop culture for the Village Voice, and is currently co-editing an anthology on the 1960s counterculture.
Peter's column runs every other Wednesday on GettingIt.