Court Of Sex Appeal
Seduced by a Russian tennis vixen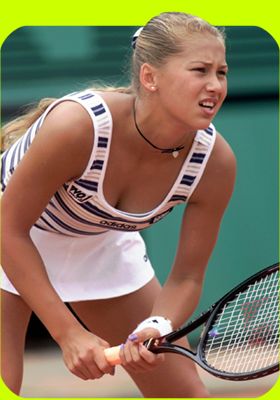 Watching Anna Kournikova makes me wonder if it's possible to have sex while playing tennis. Visions of her using my penis as a racket, or gently lobbing my balls to Martina Hingis for a clean finishing stroke, come to mind, but that's probably not appropriate.
I've long craved for a combination star athlete/porno queen. A woman who was more than the mousy, deferential peeps that society produces today, but who could still yield to my touch and offer up soft, curvy flesh, dainty gestures, and vocalized orgasms for my delight.
That's why I'm obsessed with Anna Kournikova.
Most sports are played by pinheads, but tennis is different. Women's tennis, anyway. With the 130 mph-plus serves and single-handed backhands, men's tennis is all power and no finesse. Women's tennis, on the other hand, nurtures more of that cunning Zen that gives the players a subtle range of moves, while at the same time allowing them to swat with all their might, grunting and sweating, sprinting and sliding.
When women play the game well, you get an added element of titillation that only comes from seeing that the athlete is crafty, always thinking, a sly decision-maker. Man-brutes like Martina Navratilova and Gabriela Sabatini, with their muscles and hardened faces, are pure evil to anyone who appreciates the way women's tennis allows for both femininity and strength to be displayed in a single dance.
Tennis hit a low point for me when Navratilova burst onto the scene and "changed" the sport, hitting the ball harder than the prisses before her (Tracy Austin and Chris Evert), and running around the court with more power than a lot of men. And what would she do after a match? She'd leave, victorious, to go get it on with her girlfriend. She possessed zero girlie-appeal.
Then along came Steffi Graf, a cute little German morsel of femininity and a hard-hitter as well. My catharsis was overwhelming, and I cheered my heart out for Steffi as she humiliated the harder, buffer Martina time and again. With her tight, protuberant ass and elegant bone structure, Steffi only made me yearn more for the perfect fusion of tennis ability and sexiness.
The next girl to raise the bar (OK, my bar) of women's tennis was Martina Hingis. Another top player (currently #1 in the world), and one with a very fine body, she has a cuter face than Graf, bringing her matches even closer to the ideal.
And now Anna Kournikova, oh my. With her long, blond locks and her bronzed body, I can't recall a more feminine player to hit women's tennis (or any sport), and she's all the more sexy because she kicks ass on the court (13th in the world, and rising). Anna does with her classically beautiful body what many men cannot, and yet she does it without losing her distinctly female sexuality.
"Why should I have to look ugly just because I'm an athlete?" she quipped recently in Maxim magazine, beneath a photo of her (barely) dressed in red knit, sitting on a red leather sofa, the crotch of her white panties peeking from under her skirt.
I couldn't agree more.
Jeff Diehl always follows through on his ground strokes.