Vampire Technology
Latex and leather in L.A.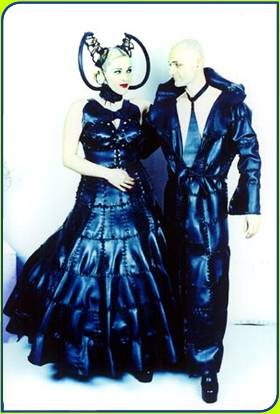 Driving around in the industrial section of downtown Los Angeles, you may come upon a large squat warehouse with broken mirrors embedded in the walls over the heavily barred entrance. The glittering pattern of shiny shards reads VampireTechnology and passersby have been known to mutter, "Oh, you're scary," as they hurry past.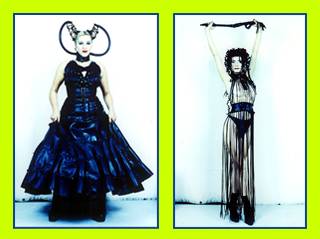 If the name Vampire Technology conjures up visions of cyber blood fetishists with circuitry in their fangs then you're not so far off the mark. Devin Merkel and Alicia Gorecki run this intimidating artistic fashion design establishment. Favoring recycled rubber, they haunt dumps and truck yards to find just the right scraps for salvage. A set of old tires becomes a heavy Mad Max trench coat suitable for deflecting artillery and impressing the babes. Vampire Technology clothing will get you laid.
Active in the Los Angeles fetish scene, Devin and Alicia have hosted gallery exhibitions for such noted fetish photographers as Steve Diet Goedde, the Silvas, Ken Marcus, Ernest Green, and others. They recently partnered with David May from O magazine to do his yearly Bacchanalia party and have teamed up with the Cacophony Society, a group of pranksters and artists who spend their time subverting mainstream society.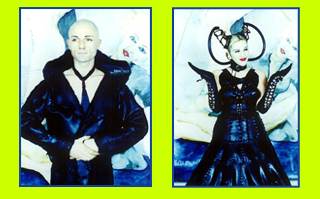 In New York, Cacophonists such as the curvaceous Dr. Ducky DooLittle lead drunken pub crawls featuring crowds of people dressed as Santa Claus, the Easter Bunny, clowns, and other disturbing icons.
Vampire Technology meets all of your fetish-as-performance-art needs. You can purchase one-of-a-kind rubber dresses, but you can't have the chairs; I'm getting all of them as soon as someone pays me a ton of money for a screenplay.
Amelia G edits Blue Blood and is a regular contributor to Fetish, Tattoo Savage, and Playboy Online.