Wave Of Cow Crime Rocks Windy City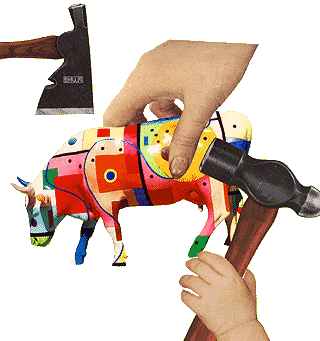 CHICAGO -- When Chicago unleashed Cows on Parade upon its windblown citizens, the city fathers didn't expect it to lead to a crime wave. But when you throw a few hundred artificial heifers into a major conurbation, you're asking for trouble.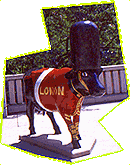 It all started back in the summer of 1998, when Chicago businessman Peter Hanig visited Zürich, Switzerland. Impressed with a tidy Swiss exhibit of decorated fiberglass cows, he returned to Chicago and set in motion the biggest thing to hit the city this Summer next to Sammy Sosa's home run derby. The massive public art project involves 300 cows, each one costing its sponsor a fat $2500 for the basic cow and mounting. In return, the sponsor (usually corporate) gets to pick an artist and impose a theme. The rest is Chicago (and maybe even art) history.

The Cows arrived on June 15, and quickly began popping up all over the city. The Bears have one to play with at Soldier Field, some gaze benignly across major intersections, others rest atop bridges, and a lucky few have found grazing room inside office buildings. There's even a cow on a boat. When you least expect to find a cow, there's a cow.
There's only one problem. Cow crime.

The first sign of major trouble came soon after the cows appeared. Far from basking in Chicago's hip urbanity, one cow instantly fell victim to a crime its country cousins know all too much about: cow tipping. And that was just the beginning. Another cow, dressed in a swimsuit, was stationed on an old-fashioned lifeguard chair on Oak Street beach. But not for long. Shortly after its arrival, police came across two industrious (though perhaps not very bright) young men strolling along the beach with Lifeguard Cow in tow.

Weighing in at a mere 40 pounds (pre decoration weight), the fiberglass ruminants can be picked up and moved with a minimum of difficulty, which has led to both a cownapping and a cowjacking. In addition, there have been more than a few de-hornings and at least one beheading. It would seem that Chicago's hooligans are finally getting their payback for that little incident involving Mrs. O' Leary's conflagration-causing calf.

On the plus side, at least one smart Chicago artist has capitalized on the event. Robert Koutny has been creating cow pies, which he strategically positions with Velcro straps beneath the beautified bovines. Koutny decorates the pies to match the particular cow statues they sit under -- such as his "moon pie," a patty with little astronauts stuck in it, which rests beneath Space Cow.

Meanwhile, help is at hand. The Chicago police have solved 100 percent of major cow crimes (apart from the general cow vandalism) and, in an effort to repair some of the damage, the city has created a cow ER. For the duration of the exhibit (through October 31), every aesthetically damaged Bessy will be gussied up for a charity ball (well, actually, a cow auction) in November.
A freelance writer for 17 years, Deborah Miller has written more than 50 Internet articles this year. She lives just north of Chicago in Evanston.