I Came, I Saw, I Came Again
Caligula returns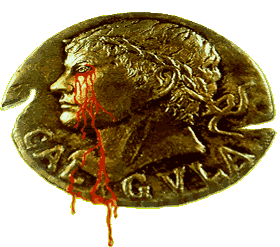 As a college freshman in 1981, I had two major obligations: declaring a major and going to see Caligula -- which was still playing the college theater circuit even though it had been released two years earlier. Caligula was perhaps the last big-budget attempt to blend art and porn into one delectable whole, and the results were decidedly mixed. To no one's surprise, the film took a critical beating, but it also became a durable cult hit among students, the art house crowd, and horny ancient history buffs everywhere.
Now, 20 years later, Penthouse is celebrating the 20th anniversary of Caligula by re-releasing the film for one week only in selected theaters nationwide, as well as producing a special anniversary video and DVD.

Back in '79, Penthouse founder Bob Guccione, who bankrolled the $18 million film, had hoped to make good on an idea that had titillated filmmakers like Stanley Kubrick since the '60s: take some big-name movie stars and put them in a sex film, thereby dissolving film categories and blowing people's minds. Caligula comingled such venerable performers as Peter O'Toole, Sir John Gielgud, Helen Mirren, and Malcolm McDowell with 15 Penthouse Pets, who together reenacted the orgies, castrations, and sundry depravities of pagan Rome at its most decadent.
Penthouse Pet Lori Wagner was at the center of the scandal that was Caligula. She and Anneka Di Lorenzo were the only two Pets to receive prime billing in the film's publicity and credits, and Lori contributed to some of Caligula's most memorable moments: an extended and highly explicit lesbian tryst, a grand-scale orgy, and one scene in which she urinates on an executed man.
Lori had been working with Penthouse since 1975, all the while performing in such high-profile productions as the Broadway revival of Hair and the racy Let My People Come, a sex musical that enjoyed a long, successful run at the Village Gate in Greenwich Village before moving uptown to Broadway. "I used to wear see-through clothes, see-through glass slippers, and go to Sardi's and have dinner," Lori recalls. "The Broadway circle didn't really appreciate that."
That was when Guccione snapped her up to film Caligula in Rome for six months. The shoot was one big party, and as the resident starlets she and the other Pets were given VIP treatment by the terminally horny men of Rome. "The first day I got there they [Italian film industry people] gave me an acting award," Lori remembers, "even though I had never been in a film before and we hadn't even started shooting yet." Upon returning stateside, however, her bubble burst. Amid the general uproar surrounding Caligula's debauched content, Lori and Anneka's lesbian love scene -- tame by today's standards -- seemed particularly scandalous, even to some Penthouse advertisers.
Lori left New York and went into retreat. "I was so scared by the reaction that I never mentioned to people that I was in the movie," she admits. But starring in Caligula just isn't the kind of job you can hide by leaving it out of your resume, and Lori eventually embraced her career track and Penthouse. "On one end I'm just a normal person -- I like pizza and animals and baseball -- but on the other end is this sexual goddess," she explains. "So I'm just going to take that goddess and throw her out into the world again, now that Caligula's back out and I look better now than I did then."
Nowadays Lori is a multitasking sex diva, with her own Web site, dancing part-time at the Crazy Horse Too in Las Vegas, and staying on retainer with Penthouse. After starring with John Wayne Bobbitt in Frankenpenis a few years back, Lori opted against the hardcore XXX circuit. Like a truly discerning sexual pioneer, she doesn't see much uncharted territory in today's adult video market. "I did this peeing scene in Caligula 20 years ago, and now everyone is peeing," she says, referring to current sex performers who specialize in urination. "They're trying to think of new things to do, but they're running out of positions."
Peter Braunstein writes about film and pop culture for the Village Voice, and is currently co-editing an anthology on the 1960s counterculture.