No Rest For The Wicked
Hustler's mail-order pervert paradise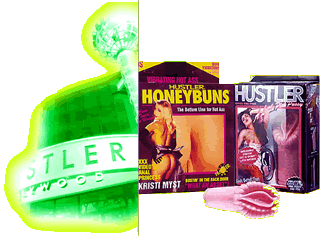 All roads lead to Rome, or at least they used to. Now all roads lead to that black, oblong building in Beverly Hills that houses millionaire-mogul Larry Flynt's multimedia porn empire.
It's the publishing house that pussy built -- home to classic stroke mags like Chic, Hustler, Jail Babes and everybody's favorite, Barely Legal. For cunt-hounds the world over, Larry Flynt Publications (LFP) is muff mecca. Every labia-licker worth his or her salt should make a pilgrimage at least once to this grand fortress of First Amendment excess and bow down in homage to that heroic, cigar-chomping titan of twat Woody Harrelson portrayed so damn well in The People vs. Larry Flynt.
When an acquaintance told me he had snagged a job at LFP's new merchandising department and began regaling me with stories of rubber snatch, plastic tushie and wagonloads of smut, I had to check it out.
My pal, Steven Johnson, met me on the ninth floor of LFP, and led me to his office. He had tons of triple-X calendars and mags lying about, bottles of Beaver Fever lubes and oils of various flavors. An item on the corner of his desk caught my eye.
"Whoa, what's this?" I asked.
"Oh, that's a Hustler Honey Buns," said Johnson, proudly reaching for a box with a clear-plastic window showing the crack of a plastic ass and cunt. Modeled on the assets of "Anal Princess" Kristi Myst, it retails for $69.95 -- cheaper than a roll in the hay with a local hooker.
"Isn't it incredible?" asked Johnson, removing the toy from its packaging and placing it on a nearby bookcase.
Almost by instinct -- the kind Dr. Kinsey wrote about -- we prodded the flesh-toned gluteus maximus with our fingers like two amateur proctologists. Though it looked impressive, the fake flesh was too hard to be appealing. The pussy had some nice give, but the anus seemed way too small. Inside, there were all these raised bumps, like the ones on the end of a classic "French Tickler." It didn't feel like any asshole I've ever known.
"How many miles does this sucker have on it?"
"Hey, I've only been here three months," Johnson laughed. "I haven't fully examined it yet."
A likely story, yet one repeated throughout my visit. Though everyone at LFP Merchandising admitted to leafing through the mags, nobody would confess to making use of the various devices floating about. Johnson appeared to be a red-blooded het male, and his office had a door that locked from the inside. Wouldn't he be at least curious about Honey Buns' promise of a "snug, sweet-ass sensation"? The rear-hatch was a little tight, but a bottle of Hot and Sticky Bun Syrup came with it to ease the pain.
Before I could press Johnson further, Allen Bratcher, LFP's Director of Merchandising and Johnson's boss, stuck his head in Johnson's office. "Takin' a look at Steve's pet, eh?" asked Bratcher, a tall man in his '50s. "He got that for being a good employee."
A silver-tongued salesman formerly with video powerhouse VCA, Bratcher was brought in by LFP a year ago to start up their direct-marketing campaign to consumers. With 25 years in the biz, he's the kind of guy behind the scenes that makes the industry run.
"Right now we're growing at 100% per month," explained Bratcher as he led me to his large office lined with row upon row of large, black file cabinets filled with porn tapes, magazines and adult toys -- potential products for Hustler's catalogue or online site. "We'll level off in a year or two, hopefully at about $6 million per annum."
Folks come from far and wide to pitch Bratcher their nutty inventions. One lady made him sign a contract swearing him to secrecy before she dropped her drawers to display her "revolutionary" sex toy -- a pair of pantyhose with the crotch cut out.
"Come by the warehouse tomorrow, and I'll show you some great stuff," said Bratcher. "We keep most of the product there."
That must be where the lewd conduct, the salacious office parties, and the sticky floors are -- LFP's warehouse out in the San Fernando Valley!
The next day, I hopped in the car and sped out to the vast dust bowl of Canoga Park, CA where every major raunch-peddler in the country keeps their stash. There, LFP has a nondescript gray building with about 20,000 square feet devoted to photographic studios and product storage.
Unfortunately, no porn shoots were on that day, but the main storeroom was impressive -- a veritable arsenal of adult delights. Giant boxes filled with all shapes and sizes of cock rings, dildos, butt plugs, vibrating anal beads -- you name it, they had it.
The pièce de résistance was the Little Pink Pussy, a tight tube of spongy latex with an obscene, vulva-shaped gash at one end. It came with a vibrating egg that you could attach with a piece of Velcro.
"You gotta try it," said Bratcher when asked. "You can put your whole fist up in it and it'll snap right back, tight as before."
Bratcher gave me one, along with the porn tapes Barely Legal #1 and Barefoot Confidential #4. Now all I needed was a six pack of beer, a pepperoni pizza and some time to kill.
Back home, I popped the tapes in my VCR. Before long, it was time to try out the "Little Pink Pussy."
How did it feel? Well, there's nothing like the real thing, baby. That said, it was as close an alternative to shagging tail I'd experienced since my formative years in North Carolina where I discovered the soft and sticky delights of a ripe pumpkin left too long in the sun.
Other than that, what can I say? Thanks, Larry!
Stephen Lemons is a writer who lives in Burbank, CA. He's written for the L.A. Times, SOMA, Art Connoisseur, and New Times L.A.