Scary Scopes
A GettingIt star guide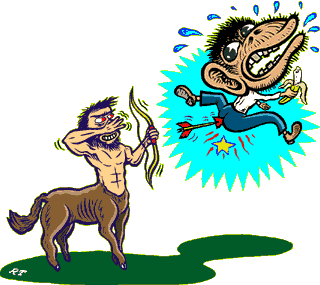 Scorpio: [10/24 - 11/22] Take heart, Scorpio. You will discover that, if life is a box of chocolates, you've been chomping on the wrong nougat.
Sagittarius: [11/23 - 12/21] You will finally make peace with that extra 10 pounds you are always carrying. Also, you'll find that before the holidays, your company lays you off and you can't afford to buy groceries.
Capricorn: [12/22 - 1/20] You will fall hopelessly in love with a member of another race/religion/nationality. Unfortunately, this will put an immediate end to your parents' subsidizing your cocaine habit.
Aquarius: [1/21 - 2/19] Your mother will start dating your last boyfriend. You won't really mind, except that she'll be wearing the jeans you haven't been able to fit into since high school.
Pisces: [2/20 - 3/20] Get to know your coworkers this month. Your boss will invite you out for what appears to be a power lunch to discuss that time last year when you a) sloppily French-kissed his daughter under the mistletoe at the company Christmas party, or b) registered his email account with a dozen hardcore porn sites in a misguided fit of pique.
Aries: [3/21 - 4/20] Learn how to write left-handed. Victim of reverse Martha Stewart karma, you will be horribly maimed in a close encounter with a Cuisinart.
Taurus: [4/21 - 5/21] Honesty may not be the best policy for you, Taurus. You will suffer an unexpected fall from the window of your fifth floor apartment shortly after your girlfriend asks you if her breasts are too small.
Gemini: [5/22 - 6/21] Invest in gloves. You will discover that that new health shake you've been drinking has lycanthropic effects, as evidenced by the sudden appearance of hair on your back and hands.
Cancer: [6/22 - 7/23] Your worst nightmare will come true. Your girlfriend will leave you for another woman and she will refuse to let you watch.
Leo: [7/24 - 8/23] Your family will soon grow, Leo. Your sister will announce that she is pregnant with the baby of a Death Row inmate and that she expects you to help with the child-rearing (at least until his case is appealed).
Virgo: [8/24 - 9/23] Your pet theory will be validated. Everything you have ever eaten, smelled, or put in your toilet bowl will prove to be cancer causing.
Libra: [9/24 - 10/23] Consider all the options before making a financial decision. Victim of questionable financial advice, you will dump your entire life savings into e_coli.com.
Between rounds of ghostbusting, turning O.J. Simpson down for dates, and composing dirty limericks, Jennifer Shepherd likes to think of herself as a "serious" writer.