Selene Luna
Bad-ass goddess of the night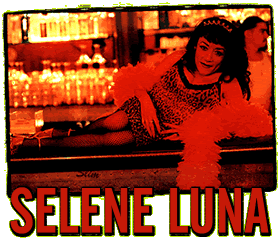 With long jet-black hair, dark brown almond-shaped eyes, and exotic, almost Eastern European features, Selene Luna is a Gen X version of Marlene Dietrich. Just a couple inches shy of 4 feet in height, she exudes a feral sensuality. One can easily imagine Luna, poised Dietrich-like on a piano top in a German saloon, singing "Falling in Love Again" in her gun-mollish, '20s-era Betty Boop voice.
Today, this star of L.A.'s burgeoning underground cabaret scene is lounging on a beige loveseat in her stylish '40s-era home, sipping a blood-red cosmopolitan and looking glamorous as always in a skintight black satin dress and matching shrug. Her full lips and long nails are as red as currants in the afternoon sun.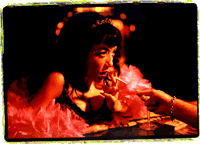 "Selene is the name of the Greek moon goddess," explains the diminutive 28-year-old femme fatale. "I've got this whole cosmic thing going. Actually, my parents really did name me Selene. That's why I have a little moon down there."
She points to a tattoo of a sliver of moon on her inner left ankle. It has a small, grumpy face etched in blue against her smooth, pale skin. "Originally, I just wanted to be known as Selene," she says. "But when Selena, the slain Tejano singer, got big, it fucked up my action. Pardon my French. With Selene Luna, 'moon-moon,' it's very unique."
The buxom little multimedia princess has been performing for the last four years in a variety of venues. She's been an assistant to magician Christopher Scott Wonder, a stand-up comic at The Improv, a model, a film actress in videos and movies, a stage actress in a play called Criminal Lovers, the star of her own karaoke band Scratch 3:23, and one of the main subjects of the documentary Cabaret X, due out next year from L.A. filmmaker Pascal Franchot.
"I'm a media whore," she says, cocking an eyebrow. "I do just about anything I can get into."
But right now she's all about her all-glamour girl-gang, the EpiLadies, named for the women's hair-removal device of the same name. According to their Web site, the EpiLadies are L.A.'s premier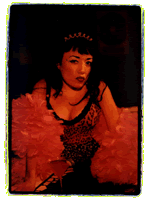 crew of tuff biatches, and they've got a whole truckload of she-devil ass with class. When the EpiLadies roll out, other girl-gangs step aside. They claim their turf and mark it with their feline musk. And when necessary, they break out a six-pack of whup-ass and teach the homies some respect.
There are three core members: Luna, known as Bobby Pinz 'cause she's obsessed with her hair; Hot Wax, the muscle-bound Mata Hari of the group, rumored to be a martial arts expert; and Nailz, with her lethal, French-dipped fingernails which she uses on victims after blinding them with handfuls of glitter.
There's also the EpiLadies' pass-around, Scratch, known for being the group's bitch and for keeping the getaway car running during a rumble. But what exactly does a girl-gang do?
"Come to Club Sucker tomorrow, and find out," says Luna saucily. "I'm emceeing the club at The Garage on behalf of Vaginal Davis, who's out of town. It's Vag's club. All the EpiLadies will be there."
Vaginal Davis is an African-American drag queen and L.A. club personality. The size of a football player, he/she looks like Flip Wilson in a blonde wig. Any club Vag hosts has to be the bomb. So a date is made for the following night at The Garage in the Los Feliz area of L.A.
The Garage, for those of you who haven't been there, looks like, well, a garage, with hubcaps, racing flames, and signs for Pennzoil hung all over the place. It's a kick-ass nightspot and come 9 p.m. on this Sunday evening, the joint is jumpin' with a bisexual, punk-rock crowd.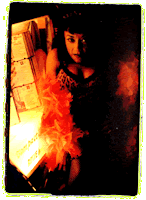 Luna is dressed to the tees, outclassing everyone in a short leopard-skin dress with fishnet stockings, glittery silver fuck-me-pumps and a pink feather boa. Sucking on a cosmo, she works the room, stopping only to hop up on stage and introduce the next band. Everything seems groovy at first with all the clubgoers hugging and kissing Luna, but then... suddenly... trouble walks into the room.
The BicDisposables, the EpiLadies main rivals, invade the club. They're led by an Asian chick with short, black hair known by the handle Dry Shave. Bra-less and wearing a tank top that reveals a hot tattoo on her right arm of Betty Page humping a wrench, Dry Shave is primed for revenge, as are her girls. It seems the last time the two gangs rumbled, the B.D.s lost, with one getting a pool cue broken over her back (ouch!).
"We were just drunk," she says. "We were drinkin' gin and juice and got messed up. Tonight's different."
Things seem tense until the two factions declare a truce. But these ruff 'n' rugged broads keep slammin' drinks, and the truce is lost in a haze of inebriation. As the punkers rock out, the EpiLadies and the BicDisposables get into a throw-down, exchanging kung fu chops and very unladylike kicks. Fortunately neither side is carrying steel, and the showdown ends with the EpiLadies victorious, and no one seriously hurt.
"This is EpiLadies turf!" screams an outraged Luna into the mike while up on stage. "And don't you forget it, you wannabes."
Once more, Selene Luna, with the aid of her precious EpiLadies, rules the night!
Stephen Lemons is a writer in Los Angeles looking to be some girl-gang's pass-around. Interested parties may apply directly to GettingIt.