The Lumber Of The Beast
Tracking the Antichrist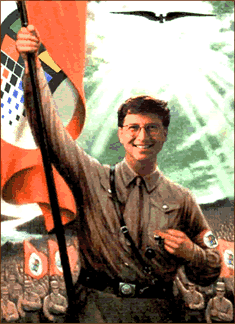 Did you know that Bill Gates is the Antichrist? Well, you've probably suspected it, but some people have set out to prove it, using the time-honored methods of Theological Numerology -- which transcends ordinary logic because it's played with deuces, eights and one-eyed jacks wild, making for a livelier game.
For instance, one Web site proves Bill's diabolism by converting Bill Gates III into the ASCII code used in computer science. Why not just "Bill Gates" since he seldom uses the III? Why not William Gates III? Well, you get the wrong results that way, see? That's the advantage of using wild cards.
In ASCII, Bill Gates III converts to the following: B=66, I=73, L=76, L=76, G=71, A=65, T=84, E=69, S=83, I=1, I=1, I=1. Add the numbers and the total is 666! Horrors!
If you're not convinced, try Bill's Microsoft Operating System, MS-DOS 6.21. Converted into ASCII code, the result is: 77 + 83 + 45 + 68 + 79 + 83 + 32 + 54 + 46 + 50 + 49 = 666, again.
In fact, Bill seems to be the target of more Web sites identifying him as the Antichrist than any other candidate. One even gives you the lyrics to a song "Bill Gates Is the Antichrist," which makes an ideal sing-along for pot parties and other gatherings of the digerati elite.
Bill still has rivals, though. In the Holy Writ -- where the word "Antichrist" only appears five times -- it has both singular and plural forms. I John 2:18 denounces many "Antichrists" who were already living then (nearly 2000 years ago...) and I John 2:22 defines the singular "Antichrist" collectively as "he who denies the Father and the Son," while I John 4:2-3 describes the "Antichrists" as those who deny Jesus, without mentioning the Father. Meanwhile, The Catholic Encyclopedia says "Antichrist" does not refer to one specific person or event. "Antichrists" in all these contexts simply means heretics; the reification of Antichrist(s) into one monstrous individual, identified with the Dragon and the Beast in Revelations, was a later, post-Biblical creation.
Among the first to be identified with the combined Antichrist/beast/dragon figure were, of course, Nero and Caligula, but that was only the beginning. Other historical figures who have been positively identified as "the" Antichrist included such notables as Martin Luther (by Catholic theologians), all the popes since the Reformation (by Protestant theologians) and, of course, Napoleon and Hitler (by unanimous acclaim). Well, they could all be the Antichrists, of course, if you use the term the way the apostle John used it.
Among the fundamentalists, the Antichrist is always considered a specific individual appearing only in the last days of Earth. Recent candidates have included Aleister Crowley, Yasir Arafat, Prince Bernhard (founder of the Bilderbergers!), Henry Kissinger, Saddam Hussein, Mickey Mouse, Barney the Dinosaur, and even Ronald Reagan -- whose full name, Ronald Wilson Reagan, has six letters in each word, thus yielding 6-6-6.
Incidentally, in the film Who's That Girl?, Madonna, when asked if she is the Antichrist, evades a direct answer. Nothing says Anti can't be an Auntie....
Leaning toward the pluralist view, some fundies have identified the Antichrist with freemasonry, computers per se, the Susan B. Anthony dollar and Teenage Mutant Ninja Turtles. Texx Marr, a leading demonologist, claims Anti-or-Auntie lives at Lucent Technologies at 666 Fifth Avenue in New York.
"Lucent," of course, means Lucifer's Enterprise.
I kid you not: None of this is satire. All of the above persons, groups, cartoons, coins etc. have been accused either on Web sites, or in Robert Fuller's scholarly study of this obsession, Naming the Antichrist (Oxford, 1995).
As J.R. "Bob" Dobbs observed, "You know how dumb the average guy is? Well, mathematically, by definition, half of them are even dumber than that." According to a 1992 poll by Time, 53 percent of our citizens expect both Christ and Anti to fight their final bout sometime in the year 2000. It sounds like a hell of a show; I wish I knew where to buy tickets.
The Anti and/or Auntie and/or plurals now has his/her/their own Web site, Antichrist and Associates. They brag a lot about their control over the mass media and preach love and kindness. Now that sounds sinister, doesn't it?
Oh, by the way, do you know the meaning of 2 x 4 x 666? That's the lumber of the Beast.
Robert Anton Wilson is the author of 32 books, including Everything Is Under Control, an encyclopedia of conspiracy theories, and maintains the Web's strangest site. He also serves as CEO of CSICON (the Committee for Surrealist Investigation of Claims of the Normal).