Slow Jams Manifesto
Erotic comics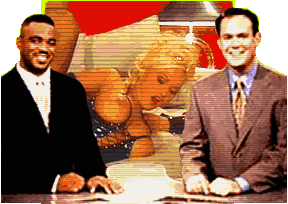 David Choe's work has appeared in: Giant Robot, Film Roman, Mean, Hustler, BunnyHop, Raygun, Vice, Communication Arts, Korn, Style and the Family Tune, Juxtapoz, New York and L.A. Society of Illustrators, Jane, and the movie 8mm. This is what he has to say for himself.
"After dropping out of school, the next best decision I ever made in my life was becoming a comic book artist. All the women who denied my existence in high school now want to wait in line to fuck and suck me. It's all caviar and cocaine from here on out. Actually, I was about to kill myself until I got nominated for "Best Artist" and "Best Story" for this years Ignatz awards. It was just the type of validation I needed to go on with my sorry life.
"I put this book together with the aid of a Xeric grant (a grant started by Peter Laird, who founded the Teenage Mutant Ninja Turtles). There are only 3,000 copies printed. I wanted to make something people would keep and not throw away.
"I spent last month hitchhiking cross-country, giving my book away to bored mothers and teenagers in suburban wastelands, blue- and white-collar workers and criminals, newlyweds, train-hopping hobos, and people who looked down and out coming out of casinos. Basically anyone who looked like they would never buy a comic book. Plus I also hid copies in casinos, school playgrounds, under bridges, public restrooms, cornfields, etc.
"At the moment, the only way you can get Slow Jams is if you find it, borrow your friend's copy, or mail me five bucks. So ride this bitch, Slow Jams, a half-true tale of obsession, stalking cute girls, post-teen angst, and Omar Sharif. Anyone who thinks I draw messy, thinks I can't spell, or picks up my book, reads the whole thing and then doesn't buy it for a measly five bucks, can all go lick my hairless asshole."
Check out David Choe's comic: The Story of Nancy [100kb JPG]