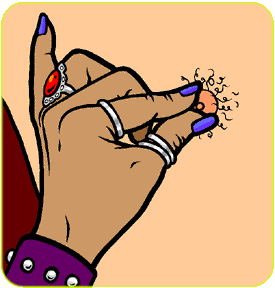 They're Alive!
Long ago, I believed my tiny tit-nubs were dead warts, without sensitivity. Then Dyan Becker, an agile-mouthed, sharp-toothed blonde, guaranteed arousal of my dormant pseudo-mammaries. Confidently, she sucked my frigid seeds, until spasms of ecstasy gushed forth. I shrieked with gooey hysteria.
Maintaining her squeeze on my love buttons, Dyan lowered her head to gently blow me. I thundered into an orgasm that jolted my carcass for delirious minutes. Nipple play led me into a galaxy of soft-hearted, hard-dicked emotions.
My advice for beginners? Approach nipples cautiously -- pretend they're wild bunny rabbits. If you charge in gnashing and scratching, you'll scare them.
Slowly stalk the timid creatures, warm them with your palms, circle the aureoles with your fingertips. Don't pounce until the bunny-buds perk up, thrilled and curious.
Steadily increase your bullying, with an unpredictable assortment of tweaks, twists, kisses, flicks, pinches, and nips. The initially-hesitant nipple-bunnies will soon be begging for you to eat them.
Tit-teasing is mandatory foreplay in my sexual agenda. I keep them in the game until climax, unless they get overstimulated.
Men: You weren't born with a clitoris, but your easy-to-find duo of boob-dots makes an excellent substitute. Beg your babe to maintain attention during fellatio and intercourse. If she's "on top," she can rhythmically time her vaginal squish-downs with some naughty nipple pulling that'll give you a tailbone-shattering orgasm.
Women: If his crotch-slurping tongue coordinates well with his nipple-taunting fingers, you'll get treated to cunnilingus sessions that'll leave you wetly, sweetly splayed. If he's got a loose paw or two during intercourse (i.e. in "doggie-style") insist that he pluck on your udder-ends.
Chest 69: Side-by-side or top-n'-bottom, line your nibbling lips up with your partner's nipples. If you're hungry add chocolate, honey, or whipped cream, and munch each other into wonderland. When you're both screaming to explode, simply slide down to quim and weenie and finish each other off with some oral.
Mama's Mammaries: Women who have birthed and nursed have larger, less predictable teat-tops. She might seek rough chomping on her half-numbed nubs, or perhaps they're super-sensitive due to toothy tots who haven't been weaned. Communicate, you klutzes. Possible bonus: If she's still lactating, you can guzzle like a thirsty infant with some kinky milk.
Next week, learn How to Suck My Dick.
Hank Hyena is a columnist for SFGate and a frequent contributor to Salon.