You're Soaking In It
Newest fad among cricketers: urine & calves' blood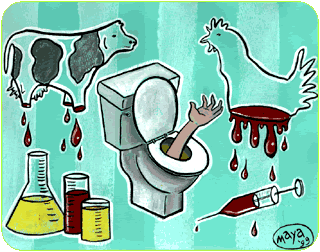 England's national cricket team is at an all time low. Recent matches against India, Pakistan and Australia have seen the team routed. Graeme Swann, England's rookie bowler, knows the current team is piss-poor -- but believes strategic use of urine could revive the team's ailing fortunes.
"There have been a few different methods for toughening your spinning finger, and I've tried them," boasts Swann. "There's been surgical spirit and an herbal remedy, and then there's urine in a bucket. I dip my hand in that. I find it works best." Proprietary Swann, 20, uses only his own urine for this bizarre ritual undertaken in the name of national pride.
Before rocketing to fame on the England team, Swann bowled for Northamptonshire County. There, teammates grew used to the sight of him pickling his hand in a bucket of his pee in the corner of their changing room. With Swan's strong record of bowling big players off the green and onto the benches, it seems his ritual might have some merit.
Having hardy palms and fingers makes for a less painful and more efficient game when you are throwing -- and hopefully catching -- a heavy wooden ball (though why you'd want to...). Those with soft palms do not make good bowlers. Swann swept aside hygiene concerns in this most fastidious of nations, saying "I do wash my hands before I go out to bowl -- or if the lunch and tea intervals are approaching. And no, I don't lick my fingers between deliveries."
Medical opinion unwaveringly pronounced Swann's efforts a piss-take. "It is unlikely to make a difference," said Dr. David Blower. "But if it makes him feel better and helps England win a test, then, fair enough." Dr. Blower went on to express the olfactory concerns voiced by cricketers and supporters of the game since Swann's revelation last week. "It would leave a nasty smell and I certainly have never heard of anyone recommending this." A watersport not to be played at home, then.
But as far as playing enhancements go, piss by the bucketload is easier to swallow than calf's blood or cockerel neck oil. The secret behind the success of Iran's national cricket team was recently revealed to be injections of white cells from calf's blood combined with the oil from the neck flap of a cockerel into injured tissue.
Dr. Muller-Wohlfahrt, who pioneered the treatment of sports injuries using animal parts, claims not only members of the Iranian cricket teams but also the likes of feted England footballer, Michael Owen, as disciples. Now that such secrets that whiff faintly of voodoo are out, cricketers from across the planet should get together and swap recipes -- ingredients, even.
Clearly, there are no lengths to which leading sportsmen are unwilling to go (or depths they're unwilling to plumb). Perhaps the elixir of sporting success lies in the gland from a cockerel's neck marinated in Graeme Swann's urine. Who knows? Certainly the market in cricketing souvenirs just got a lot more interesting.
Damian Leighton Barr lives high up in a big house by the sea in Brighton where he writes for The Independent, The Times & The Guardian, raising funds to feed his two hamsters and his boyfriend.