The Hyphenate Life
"Will sing-act-direct-
write-model for food"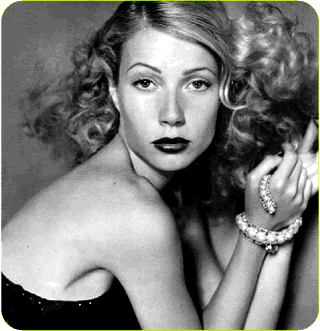 They're the hyphenates: Hollywood's latest wave of celebrity moonlighters. If you're a photographer, writer, editor, actor, musician, or purveyor of anything once quaintly associated with talent, skill, or education, watch out -- your career may be their next lark.
Within their ranks can be found actress- producers like Drew Barrymore and actor-writers like Steve Martin, would-be actress-supermodels like Claudia Schiffer and even the occasional triple hyphenate like Jennifer Lopez, who shuffles from film roles to hit singles to L'Oréal commercials.
Meanwhile, following in the footsteps of singer-actors Harry Connick Jr. and Lyle Lovett, three female hyphenates -- Jewel, Alanis Morissette, and Sheryl Crow -- are making their big screen debuts this fall. And where would Jane magazine be without that newfangled contraption, the actor-scribe? Marie Claire made Gwyneth Paltrow their guest editor -- even though Gwynnie never even completed college -- while Civilization magazine's circulation zoomed when they handed Martin Scorsese the reins.
Perhaps sensing the illegitimacy of the hyphenate phenomenon -- while profiting from it -- a complicitous media has been soft-pedaling the issue. According to People magazine, the new trend toward actress-models is due to the fact that "people want something that's more accessible now." And it is amazing just how many people on any given night at Home Depot look like actress Charlize Theron (who recently graced the cover of The New York Times' annual women's fashion issue).
Another tactic for easing public acceptance of hyphenates is to describe the hazing rituals they endure in their chosen profession-du-jour. It must soothe unemployed actresses to know that when Jewel arrived on the set of Ang Lee's forthcoming Civil War drama Ride With the Devil, co-star Tobey Maguire took a tough love approach toward the queen of chamomile rock. "We didn't just let her come in with no problem," he said. "We bumped [her] around a little." But even if the cast forced Jewel to bring them coffee during shooting breaks, wouldn't it have been better just to cast an actress in the role?
Of course, cross-platforming one's career is risky, and not only because there are always going to be 10 Jon Bon Jovis for every Frank Sinatra. In the worst-case scenarios, hyphenates lose their primary professional identity and become generic celebrity flotsam.
To prove the point, here's a simple quiz: What is Elizabeth Hurley? 1)Hugh Grant's girlfriend; 2) Estee Lauder spokesmodel; 3) Vanessa in the Austin Powers movies; 4) Film producer; 5) Someone who wears backless Versace dresses to premieres. She's all of the above, of course, and nothing in particular -- the multi-tasking magnate par excellence, as well as someone whose ersatz celebrity is as aimless as it is lucrative.
Still, the future looks bright for hyphenates like Hurley. After all, who is more adaptive to media conglomerate Viacom (which owns Paramount Pictures, MTV, Blockbuster Video, Nickelodeon, and soon possibly CBS): actor-singer Will Smith, whose music videos promote his movies and vice versa, or someone like Sean Penn, who only recently learned not to punch photographers?
Given a synergy-driven entertainment industry in which movies are no longer marketed as an end in themselves but as a way to sell other products, hyphenates are just what the system ordered: They're human tie-ins.
Peter Braunstein writes about film and pop culture for the Village Voice, and is currently co-editing an anthology on the 1960s counterculture.